Over 90% citizens feel Stray Animal Management not being done effectively in their city
• High majority feels effective Stray animal management key to success of Swachh Bharat
• Over 16,000 citizens across 53 cities participate in national and local surveys
• Suggest solutions to be implemented by State Government and Local Bodies
New Delhi, August 30, 2016: Recently, a 65-year-old woman was mauled to death by a large number of stray dogs in Kerala with dog bites all over her body. Kerala alone has seen over 100,000 instances of dog bite in the last one year per the Supreme Court panel but such incidences of stray dog bites are common all across India.
In Noida, near Delhi/NCR, morning walkers carry a stick with them not because they need walking assistance but because of the fear of stray dogs. The issues of stray animals is not just limited to dogs. In the various central government buildings in Delhi, it is quite common to find stray monkeys. The same holds true for the various upscale Delhi colonies where stray monkeys are a subject of discussion in colony and district level local circles with the urban local bodies failing to implement permanent solutions.
Stray Cows and Buffaloes are also a common sight in many cities across India where accidents are caused during nights due to drivers bumping into stray cows and buffaloes. Per citizens, stray cows and buffaloes also cause traffic disruption in cities like Gurgaon and Noida.
In addition to stray animals affecting safety of citizens and disruption in daily life, stray animals are also a hindrance to the Swachh Bharat Mission. According to citizens, stray animals in many areas spread any garbage that is kept at a common collection point or outside their home for collection. In addition to that, defecation by stray animals leads to filth and poor hygiene in the area. 91% citizens believe that effective management of stray animals is critical to the success of Swachh Bharat Mission.
In a separate rating exercise where over 6500 citizens have rated their local municipality's stray animal management department on LocalCircles, the average rating has been 1.2 on a scale of 5. The ratings echo what has been highlighted in the city poll below. Among issues, citizens have highlighted lack of stray animal hotlines, shelters, infrastructure and willingness at local bodies to pick up stray animals. Citizens have also highlighted the lack of effective rules and their enforcement by local bodies to penalize those who let their old cows and buffaloes stray on streets without supervision.
Below are the results of the polls on Stray Animal Management and crowdsourced citizen inputs on what should be done to effectively manage stray animals
#Poll question 1: Is stray animal management being done effectively in your city?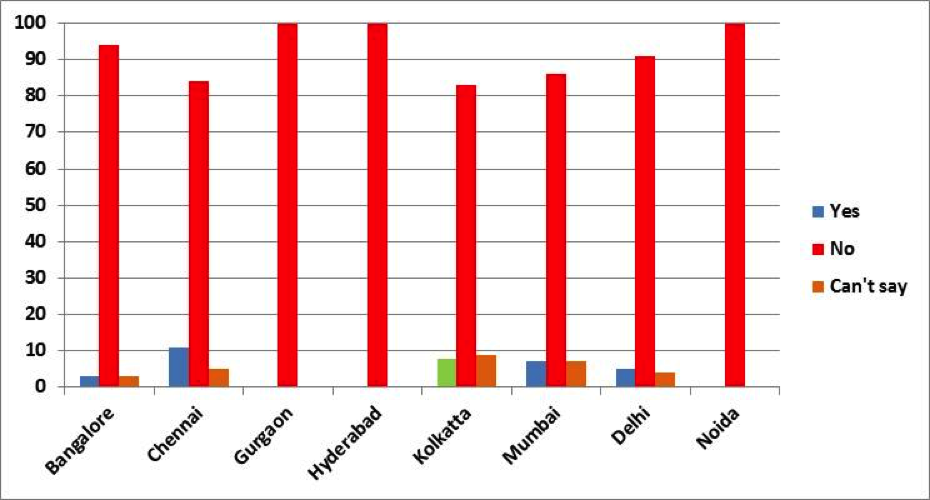 #Poll question 2: Do you believe effective Stray Animal Management is critical to success of Swachh Bharat Mission?
Citizen inputs on how stray animals can be effectively managed:
1. The local municipalities should take steps to remove all stray canines and cattle from the roads
2. Sterilisation campaigns should be done so that stray animal population does not increase
3. A fine should be imposed on people who leave their cattle on the roads
4. Enough animal shelters should be built in every district
5. Municipalities should tie up with NGOs to train these stray animals
6. NGO's should be involved in working towards adoption of the stays
7. A municipal helpline should be started to report dangerous stray animals
8. A special team should also be established to act quickly on these complaints
9. Stray cows should be picked up by the municipal team and the owner should be charged heavily for their release
10. Some people have a misplaced sense of charitable attitude towards animals – this should be changed through education and awareness
11. Financial penalty should be applied to people who feed stray dogs and monkeys
12. Animals like goats, sheep, buffaloes & cows must be registered and have mandatory ownership tag fitted. They must not be brought on roads without supervision and the same should attract heavy penalty
13. Relevant Government or NGO agencies should take the cows to villages and auction them off to recover costs or make profit
14. Stray animals should be caught and rehabilitated in separate enclosures in the outskirts off the towns and cities
15. Animal Husbandry Department of the state Government should be nodal agency to manage stray cattle and canine population as they are fully equipped to handle them
16. Animals like dogs, pigs should be sterilized to control their population and must rehabilitated in separate areas
About Swachh Bharat Circle
The above inputs were received from India's largest citizen community on Swachh Bharat called the Swachh Bharat Circle. The Swachh Bharat Circle was started on Oct 2nd by Swachh Bharat Mission, Ministry of Urban Development in association with LocalCircles to make Swachh Bharat a jan andolan/public movement and engage citizens across India. Now, this circle is the largest online community with 345,000 citizens participating from over 200 cities. For more details visit http://pib.nic.in/newsite/PrintRelease.aspx?relid=110405
About LocalCircles
LocalCircles is India's leading citizen engagement platform that connects citizens at local, city and national level to participate in governance and make their urban life better. LocalCircles has over 1,200,000 citizens connected on it across the country participating in various aspects of local, state and national governance along with staying in touch with each other for various causes. For more details visit https://www.localcircles.com