Ecommerce sites will not be able to sell above MRP from now on – Department of Consumer Affairs
---
• Selling above MRP no more an option for eCommerce Sites
• Will be required to mandatorily disclose MRP and best-before date of products from Jan 1, 2018
• Many consumers have reported of this kind of cheating on ecommerce sites
• MRP on medical devices made mandatory
22nd December 2017, New Delhi: For the past few months, consumers on LocalCircles have constantly reported cases of being charge above MRP for products when they buy from ecommerce sites. Earlier this year, after polls was conducted by LocalCircles in which over 42% consumers had reported products being listed for a much higher price on ecommerce sites than their actual price in the market and 98% consumers had demanded that ecommerce sites should disclose the expiry date of products, the Department of Consumer Affairs amended the Packaged Commodity Rules 2011 and issued a notification on 23rd June 2017, where sellers on all eCommerce sites will have to disclose actual product MRP and the best by date of the product they are listing.
98% citizens want eCommerce sites to disclose expire date of limited shelf life products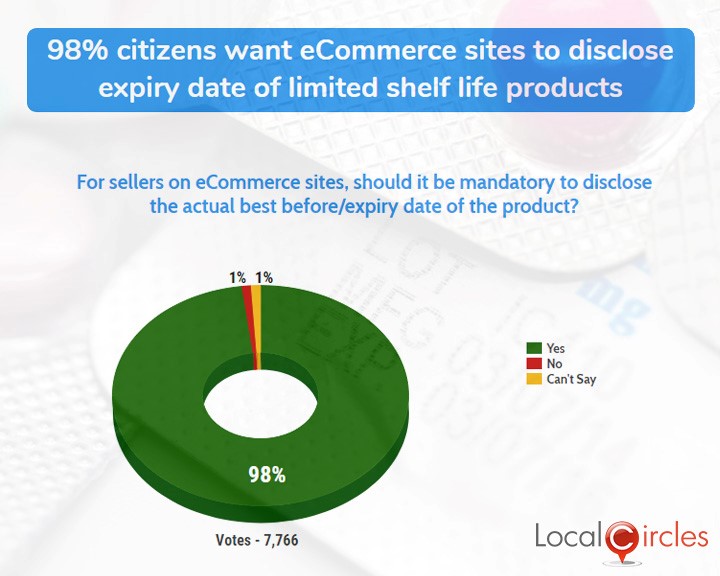 42% citizens have experienced eCommerce sites listing products above MRP
This decision came after many consumers reported the issue of sellers on eCommerce sites inflating list price above MRP and selling products with a short shelf life remaining in the Connected Consumers community on LocalCircles.
93% citizens want Medical Devices like Stents & Orthopaedic implants to have MRP
Another important announcement in the notification was that all medical devices declared as drugs would mandatorily have an MRP printed on them.
The Departments had also issued a notification on addressing the issue of dual MRP. As per Consumer Protection Act 1986, it stated that no manufacturer/packer/importer was supposed to declare different MRPs on identical pre-packaged commodities by adopting unfair trade practices.
The PCR 2017 amendment goes into effect from 1st January 2018 and will require:
1. MRP and best before dates to be disclosed by ecommerce sites
2. MRP to be published on all medical devices
3. No two different MRPs for the same packaged product
However, earlier this week on the account of several requests received by Department of Consumer Affairs from many industry associations that they still had huge inventory left for old packaging materials and labels, the department has permitted them to be used till 31st March 2018.
You may also like:
About LocalCircles
LocalCircles takes Social Media to the next level and makes it about Communities, Governance and Utility. It enables citizens to connect with communities for most aspects of urban daily life like Neighborhood, Constituency, City, Government, Causes, Interests and Needs, seek information/assistance when needed, come together for various initiatives and improve their urban daily life. LocalCircles is free for citizens and always will be!
All content in this report is a copyright of LocalCircles. Any reproduction or redistribution of the graphics or the data therein requires the LocalCircles logo to be carried along with it. In case any violation is observed LocalCircles reserves the right to take legal action.