75% Citizens say their Municipal Corporation is not engaged in Swachh Bharat
---
Highlights
• 58% feel children and youth in there area not following Swachh Bharat values
• People still willing to participate if they see municpality and Govt doing their bit
3 February, 2017, New Delhi: Prime Minister Narendra Modi launched the Swachh Bharat initiative on Oct 2, 2014 and soon the mission will reach its half way mark. Hundreds of Crores of rupees have been spent on various Swachh Bharat initiatives in urban and rural India but the situation on ground on cleanliness and waste management front is not seeing the corresponding improvement.
In an effort to understand the current situation and to figure out what can be done in the remaning two and half years, LocalCircles, conducted polls in India's largest online community of Swachh Bharat – the Swachh Bharat – Clean India circle with over 350,000 citizens.
Per the survey, in which over 30,000 unique citizens participated from over 250 districts of India with 68% males and 32% females, a high 75% of the citizens believe that their local municipal corporation is not engaged in the Swachh Bharat Mission. Only 16% said their municipal corporation was engaged in the mission while the remaining 9% were unsure.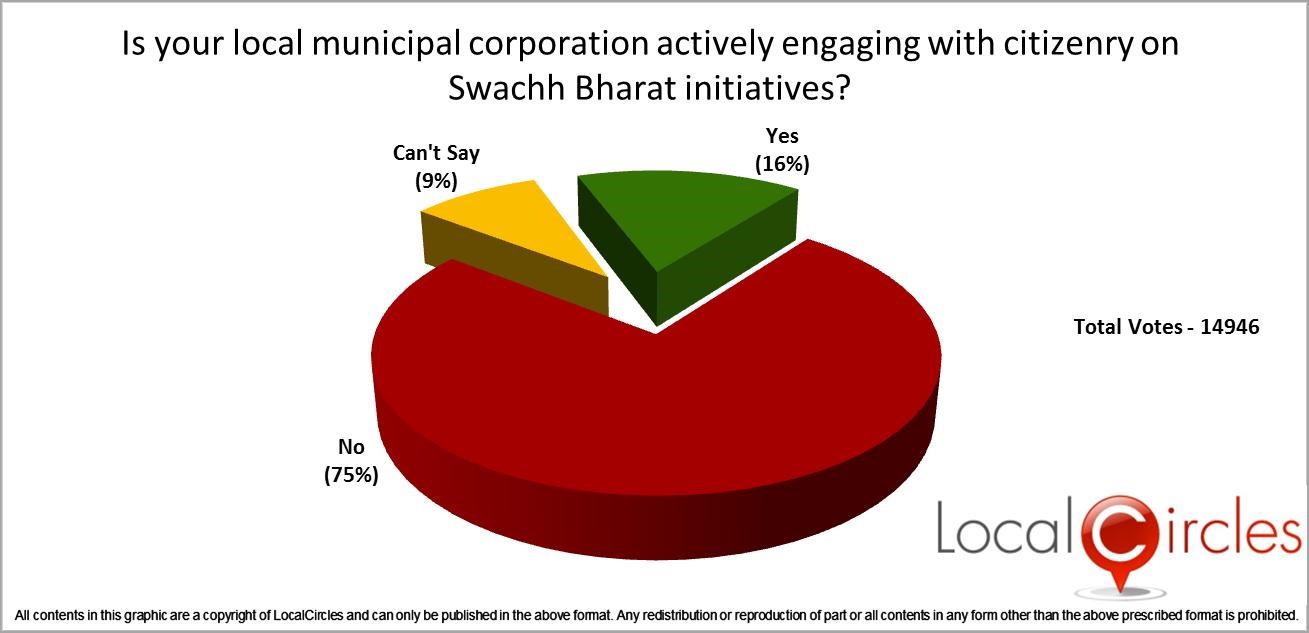 When asked especially, if children and youth around them were living the Swachh Bharat principles (following civic sense, no littering/defecation in open) in daily life, majority of 58% people said not with only 34% saying yes. 8% did not have an opinion. In a similar poll 15 months ago, 32% people felt that children and youth were not engaged in the mission thereby showing a significant deterioration.
But looks like it is not too late. 87% respondents in a separate survey said that they would be happy to participate in making their neighborhood and area better if the central government or local municipal bodies engages with them even now. This might be good news for the central government as this indicates that people do care about making their neighborhood and area cleaner and even if they are engaged now, they are willing to engage in the cause of Swachh Bharat. Citizens via the Swachh Bharat circle have also shared multiple models in which municipality and citizens can work together including engagement at the ward and block level. Critical now that Central Government and Municipal Bodies respond to citizen's calling.
About LocalCircles
LocalCircles takes Social Media to the next level and makes it about Communities, Governance and Utility. It enables citizens to connect with communities for most aspects of urban daily life like Neighborhood, Constituency, City, Government, Causes, Interests and Needs, seek information/assistance when needed, come together for various initiatives and improve their urban daily life. LocalCircles is free for citizens and always will be!
All content in this report is a copyright of LocalCircles. Any reproduction or redistribution of the graphics or the data therein requires the LocalCircles logo to be carried along with it. In case any violation is observed LocalCircles reserves the right to take legal action.