LocalCircles Mood of the Consumer Survey (Pre-Festive Season)
Consumers held back on discretionary spending in the last few months but likely to be back in the market for festive season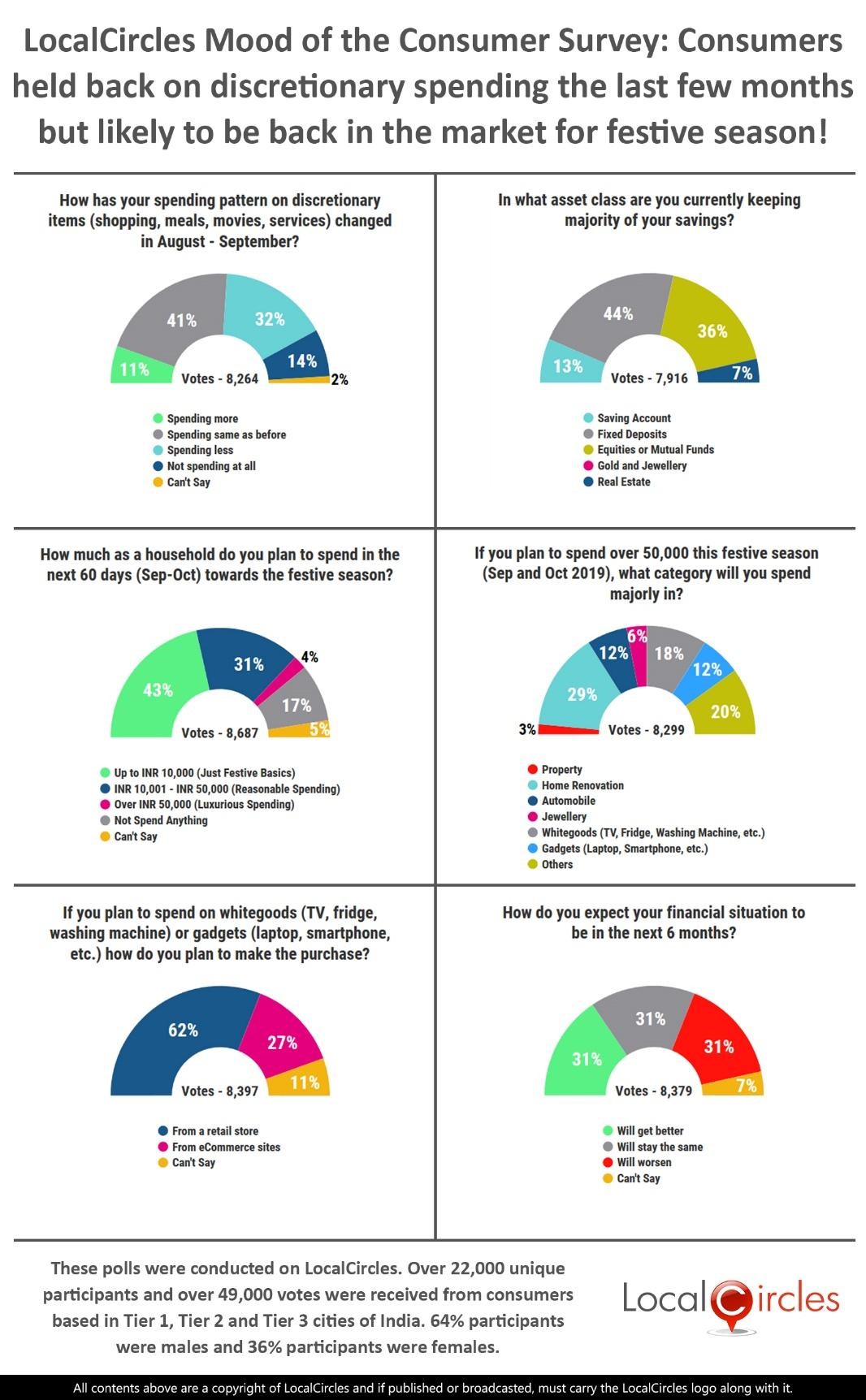 September 18, 2019, New Delhi: Diwali is India's biggest festival. Every year, manufacturers and sellers wait for the festive season with hope that consumers will come out and shop in large numbers. Be it a new house, a new car or bike, household items, that gadget upgrade, or gifts for family and friends, consumers don't disappoint as many of them open their hearts and spend during this festive season. With the auto sales growth numbers in August 2019 were lowest in a decade and FMCG companies are confirming a slowdown in rural demand, LocalCircles conducted its annual Mood of the Consumer survey to check the consumer pulse on what their plans are for the upcoming festive season. The survey received more than 49,000 votes from around 22,000 unique consumers.
The first question asked how has their spending pattern on discretionary items like shopping, meals, movies, services etc. changed in August – September. 32% said they are spending less and 14% said they are not spending at all. 41% said their spending has been same as before while 11% said they are spending more.
46% citizens say they are either not spending or spending less in the last 45 days on discretionary purchases
These numbers show that one third of the consumers have cut their discretionary spending and 14% are not spending at all, wanting to hold on to the cash in case things continue to worsen. This is evident in the numbers reported by auto, FMCG and various other sectors.
The next question asked consumers, in what asset class are they keeping majority of their savings. 44% said fixed deposits and 35% said equities/mutual funds. 13% said savings account while 7% said real estate. No one said gold and jewellery.
Fixed deposits and savings account are considered to be the safest bets in investment. With 57% people choosing them over the other popular investment instruments like mutual funds, it looks like majority of the consumers do not want to rely on the market forces when it comes to majority of their savings.
57% of the citizens are keeping majority of their savings in Fixed Deposits or Savings Account
When asked how much as a household they plan to spend in the next 60 days (Sep-Oct) towards the festive season, 43% said they would spend up to Rs. 10,000 on just festive basics and 31% said they plan to spend reasonably between Rs. 10,000 and Rs. 50,000. 4% said they plan to spend luxuriously over Rs. 50,000 while 17% said they will not be spending anything.
35% households will spend over INR 10,000 this coming festive season
With all the slowdown news around, these numbers seem to be the silver lining suggesting that many consumers may be back in the market in the month of October.
The following question asked those who said they plan to spend over Rs, 50,000 this festive season, which category will they spend the majority amount in. 29% said home renovation, 12% said automobile, 6% said jewellery, 18% said whitegoods like TV, fridge, washing machine etc. 12% said they would spend on gadgets, 3% on property while 20% plan to spend on other items.
For those spending over INR 50,000 this festive season, top areas include home renovation, automobile, whitegoods and gadgets
Indian automobile and consumer durable companies are bullish on the consumer demand during the upcoming festive season. They are hopeful that the season will bring in good sales numbers but are cautious at the same time and are maintaining low inventories.
The penultimate question asked if they plan to spend on white goods or gadgets, how do they plan to make the purchase. 62% said they would buy from a retail store while 27% said they will buy from an ecommerce site.
27% of those looking at buying gadgets or whitegoods this festive season plan to do it online
This indicates that a sizeable number of consumers this year may be shopping on ecommerce as opposed to offline retail. This may also be due to the fact that with the slowdown, increased number of consumers feel that they may get a better bargain online as compared to retail stores.
The final question asked consumers, how do they expect their financial situation to be in the next 6 months. 31% said it will get better, 31% said it will stay the same, 31% said it will worsen and 7% were unsure.
Only 31% citizens feel their financial situation will improve in the next 6 months
This indicates that the consumers are divided when it comes to outlook of their own financial position. It shows that only a one third are optimistic about their financial position improving. Companies should take this into account as they plan their human resources, marketing programs, new product launches and operational capacities.
The last few quarters have been tough for many sectors as the consumer spending has continuously declined. The Mood of the Consumer survey indicates that while the cutback in spending is quite real, the consumer is likely to be back in the market, come October. Let's hope they do!
Poll Demographics and Participation
Over 49,000 responses were received from over 22,000 unique citizens located in 162 Tier 1, Tier 2 cities and Tier 3 cities of India. Approximately 36% the respondents were women while 64% were men.
About LocalCircles
LocalCircles takes Social Media to the next level and makes it about Communities, Governance and Utility. It enables citizens to connect with communities for most aspects of urban daily life like Neighborhood, Constituency, City, Government, Causes, Interests and Needs, seek information/assistance when needed, come together for various initiatives and improve their urban daily life. LocalCircles is free for citizens and always will be!
All content in this report is a copyright of LocalCircles. Any reproduction or redistribution of the graphics or the data therein requires the LocalCircles logo to be carried along with it. In case any violation is observed LocalCircles reserves the right to take legal action.