LocalCircles estimates 11.5 crore Indian adults are currently hesitant to take the COVID vaccine
---
● With COVID 3rd wave not coming as projected by various experts and coercive tactics being used in some states, the hesitant population has risen from 7 crores to 11.5 crores in the last 30 days
● 75 crore adults have gotten their first dose already and another 4.37 crores will get it soon
● Another 3.04 crore citizens may take it in the coming months as more vaccines come and additional vaccine efficacy-variant data emerges
● 11.59 crore of the 94 crore total adults are currently hesitant for several reasons and should be the primary outreach target for Government awareness and sensitisation programs
● Har Ghar Dastak or Door to Door Campaigns on the ground must focus on information sharing and not coerce or force people to take the vaccine
November 19, 2021, New Delhi: With a steady decline in the daily COVID caseloads and the 3rd wave not happening in September-October timeframe as predicted by many experts, approximately 4.5 crore Indian adults who had earlier expressed willingness to take the COVID vaccine have become hesitant. Vaccine hesitancy has been cited as one of the top 10 global health challenges by the World Health Organisation (WHO). India, which earlier had high vaccine hesitancy rates saw hesitancy decline as the lethal 2nd COVID wave impacted India in April and May this year.
In five months of the 2nd wave of the pandemic, India's daily caseload saw just close to 9,000 cases on November 16, which is the all-time low since the 1st wave abated in February. The 2nd wave in April to May was primarily led by the emergence of new variants B.1.1.7 and the more predominant B.1.617.2 or Delta variant. States, on the other hand, are encouraging residents to get inoculated, conducting awareness drives in both urban and rural areas, and even mandating vaccination in some places vis-a-vis addressing concerns about the COVID vaccines. India has administered close to 114 crore doses in just 11 months, and has also handled the vaccine hesitancy reasonably well. According to government data, India has inoculated 38.11 crore citizens with both jabs and 37.45 crore are partially vaccinated. The country currently has 25 crore vaccine doses in stock.
The LocalCircles vaccine hesitancy survey conducted in early-October had estimated approximately 7.04 crore citizen to be hesitant. To understand if anything has changed in the last 30 days, LocalCircles conducted another survey to collect responses from unvaccinated citizens to understand their plans about taking the COVID-19 vaccine and to understand the level of hesitancy that exists. The survey received 10,189 responses from citizens residing in 309 districts of India. 62% respondents were men while 38% respondents were women. 42% respondents were from tier 1, 29% from tier 2 and 29% respondents were from tier 3, 4 and rural districts.
Of those who haven't taken the COVID vaccine dose yet, 23% are willing to take it soon while another 16% may take it down the road as more vaccines/variant efficacy data emerge
Taking cognisance of the fact that a subset of the adult population hasn't taken a single COVID-19 dose of the vaccine, the survey sought to understand from the unvaccinated citizens about their plans and their reasons for not taking the vaccine so far. The responses suggest that 23% of citizens plan on soon taking their first dose of vaccine. There were, however, 16% of citizens who do not plan to take their vaccine yet as they are not convinced about whether the currently available vaccine provides enough protection from the latest and future variants. They may take the vaccine if more data become available or if other vaccines become available. Breaking down the poll, 15% of citizens do not plan to take the vaccine at all. Meanwhile, 23% are hesitant to take the vaccine yet due to uncertainty regarding side effects, whereas another 23% of citizens believe they are unable to take the vaccine due to their prevailing medical condition. In all 61% of the unvaccinated adults can be classified as those hesitant to take the COVID vaccine. This question in the survey received 10,189 responses.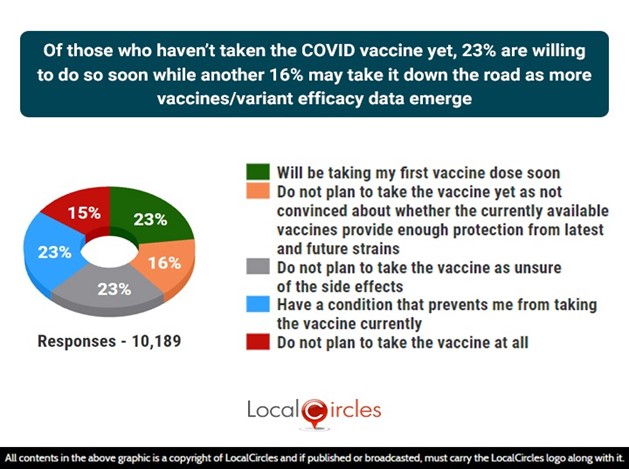 With no sight of COVID 3rd wave, vaccine hesitancy rises by 60% in the last 30 days
LocalCircles' survey conducted on October 6 indicated that 7.04 crores citizens were hesitant to take the vaccine. This percentage has now increased to 11.59 crore. The rise in vaccine hesitancy in the last 30 days may be attributed to reduced chances of COVID 3rd wave to hit India this year and with many in rural India where there is zero COVID protocol compliance, considering COVID an issue of the past.
11.59 crore Indians may currently be hesitant to take the COVID vaccine
If it is assumed that India has 94 crore adult population and 75 crores have received their 1st dose of COVID vaccine, it leaves us with 19 crore adults still not vaccinated. If the percentages of different categories are applied to this 19 crores population, it indicates that 4.37 crore citizens may take the vaccine as soon as they get the opportunity. Another 3.04 crore citizens are awaiting more information on vaccines, variants, the efficacy of existing vaccines like Covishield and Covaxin and some are even awaiting the arrival of more vaccines. Of the hesitant lot of people, 4.37 crore citizens are hesitant because of side effects that worry them, and 2.85 crore citizens are currently of the mindset that they will not take the vaccine. Then there are the 4.37 crore citizens who believe that they cannot take the vaccine due to a medical condition they currently have. While these are an approximation based on the application of survey findings to the unvaccinated population, it does provide a broad idea of how the hesitant pie might be looking like.
In summary, the survey of the unvaccinated population shows that only 23% are willing to take the vaccine soon and 16% may take it if they get convinced about the efficacy or if more vaccines become available. If the survey findings are applied to the unvaccinated population of 19 crores, it indicates that 4.37 crore citizens may take the vaccine in the near future and 3.04 crore citizens may take it once more data and vaccines become available. On an aggregate basis, it is estimated that 11.59 crore citizens are currently not inclined to take the vaccine. It is this population that must be the target of all vaccine awareness, sensitisation and information drives. Citizens from multiple states have reported how they are being coerced or forced to take the vaccine by authorities by either taking away certain benefits or by denying entry privileges to public places or by simply forcing and this is working against the vaccination drive according to feedback from the unvaccinated individuals. The focus of Central and State Governments should be to share as much information through the awareness drives about the benefits of vaccination, how people with different medical conditions can take the vaccine and who should be cautious along with the nature of side effects of the COVID vaccine experienced by others who have taken the vaccine.
Survey Demographics
10,189 responses from citizens residing in 309 districts of India. 62% respondents were men while 38% respondents were women. 42% respondents were from tier 1, 29% from tier 2 and 29% respondents were from tier 3, 4 and rural districts. The survey was conducted via LocalCircles platform and all participants were validated citizens who had to be registered with LocalCircles to participate in this survey.
About LocalCircles
LocalCircles, India's leading Community Social Media platform enables citizens and small businesses to escalate issues for policy and enforcement interventions and enables Government to make policies that are citizen and small business centric. LocalCircles is also India's # 1 pollster on issues of governance, public and consumer interest. More about LocalCircles can be found on https://www.localcircles.com
All content in this report is a copyright of LocalCircles. Any reproduction or redistribution of the graphics or the data therein requires the LocalCircles logo to be carried along with it. In case any violation is observed LocalCircles reserves the right to take legal action.