1 in 3 Indian households surveyed to spend over INR 10,000 this festive season with foot falls in stores/markets likely to rise by 20%
---
● 65% households to spend this festive season while 35% to refrain from spending
● Of those spending, 49% likely to shop via stores/markets and 38% to order online for home delivery
● 20% increase in percentage of shoppers likely to visit stores/markets as compared to last year
● Budget/Value for Money to be top shopping criteria with Safety from COVID no longer a concern
● Pooja/Diwali supplies and Festival grocery to be categories where highest number of shoppers will spend followed by home renovation/furnishings; 20% households to spend on big-ticket items
● 6% households likely to buy a gadget and 6% likely to buy a whitegood/appliance with 4% likely to spend on jewelry and automobile each
● Spending on services also to see a boost with home repair and travel as top categories of spend
● Overall festive season spending this year likely to exceed USD 32 billion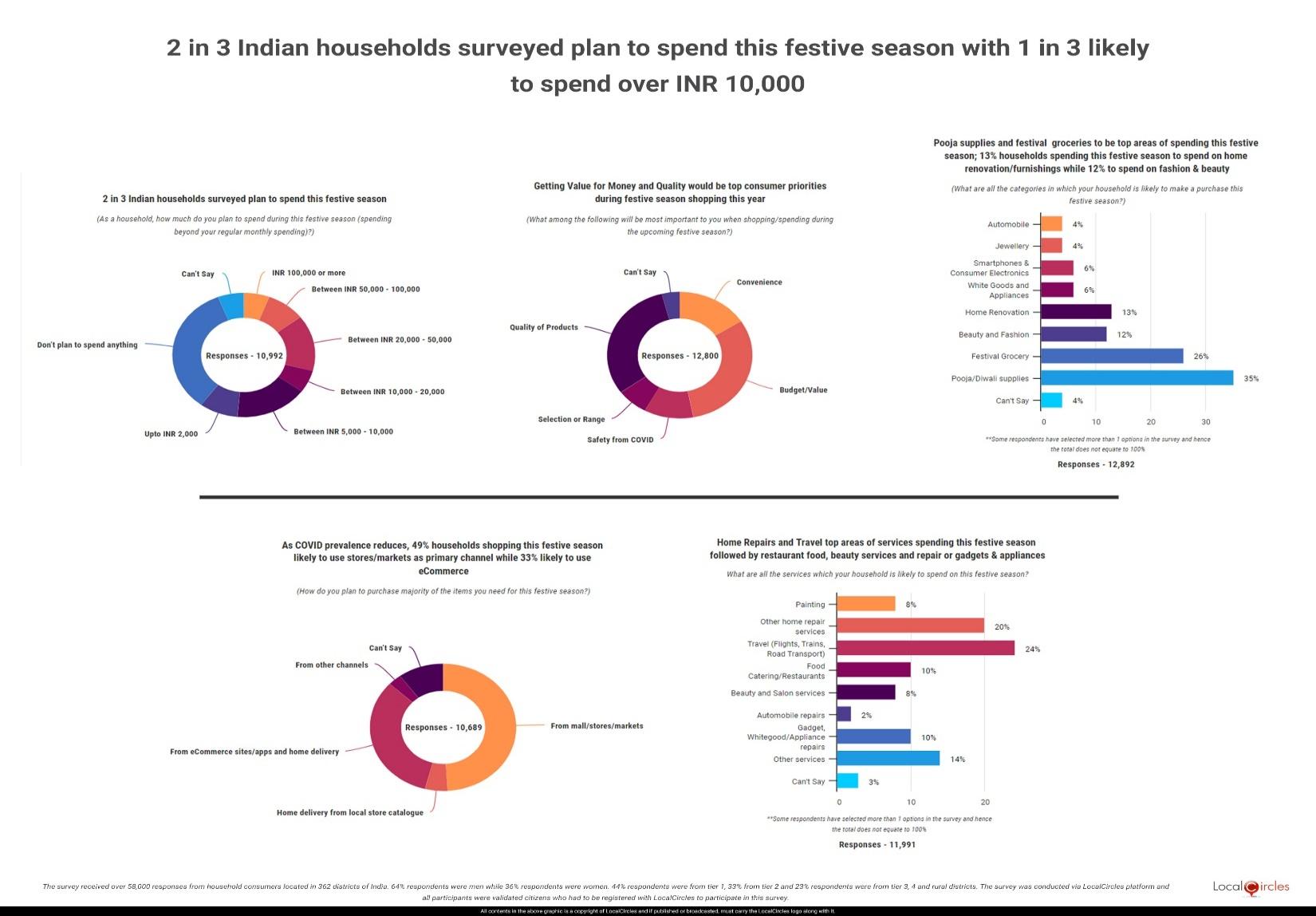 September 23, 2022, New Delhi: The longest festive season in India, which begins from mid-September and stretches till mid-November, has begun. Riding on the festive spirit, manufacturers big and small are banking on higher consumer spending despite the high inflation and an erratic summer monsoon. The Centre for Monitoring Indian Economy (CMIE) has reported that the consumer sentiments have decreased after rising in July. In August, the Index of Consumer Sentiments (ICS) shrunk by 0.5% after rising by 6.7% in July. The fall in ICS breaks a seven-month record of gains. CMIE in its statement said that household perceptions in India do not indicate any quick recovery on cards. ICS continued its downslide in September first week (down 3.1%). Many households, especially middle class and lower have been feeling the squeeze from high fuel prices, price of essentials, commodities like milk and edible oil for most of this year. At the same time, there are other affluent households with high disposable incomes, who haven't done their festival shopping and social events/parties in the festive period during 2020 and 2021 due to COVID and are raring to shop and spend this year. To understand from household consumers how they are likely to spend during this festive season, beyond their regular monthly household spending, LocalCircles conducted an extensive national survey which received over 58,000 responses from household consumers located in 362 districts of India. 64% respondents were men while 36% respondents were women. 44% respondents were from tier 1, 33% from tier 2 and 23% respondents were from tier 3, 4 and rural districts. The survey generated some unique insights that shed a light on the prevailing consumer sentiment, magnitude of spending, channels of spending, criteria for spending and key spending areas.
65% household consumers surveyed planning to spend during festive season
The first question in the survey focused on understanding how much household consumers are planning to spend this festive season. It asked, "as a household, how much do you plan to spend during this festive season (spending beyond your regular monthly spending)?". In response, it found that 35% of the 10,992 respondents said that they "don't plan to spend anything this festive season". Of those planning to spend during the festive season, 3% households are planning to spend INR 100,000 or more; 9% between INR 50,000 – 100,000; 15% between INR 20,000 – 50,000; 6% between INR 10,000-20,000; a much large number or 17% between INR 5,000- 10,000; and 9% up to INR 2,000. There are also 6% household respondents who will spend but are undecided about how much.
1 in 3 Indian households surveyed plan to spend over INR 10,000 this festive season
As the data shows, one in three households are planning to spend over INR 10,000 this festival season, which is promising. Generally, these are households from upper middle class or upper classes in India along with any middle-class families making a major purchase during the festive season. It is common for families to plan their major purchases like home, automobile, jewellery, etc. during the festive season as many consider it to be auspicious.
Attention must also be paid to the 35% respondents in this question who responded indicating that they do not plan to spend anything this festive season. It is likely that many of the respondents in this category are experiencing a squeeze with high inflation, loss of livelihood or employment and are just getting by month to month. The results of this poll are indicative of the fact that the divide may be rising with one third spending robustly (INR 10,000 or more), one third planning limited spending (up to INR 10,000) and one third not spending at all.
Nearly one-third of those spending focused on budget/value for money purchases as top spending criteria; one third focused on quality
The next survey question asked household consumers, "what among the following will be most important to you when shopping/ spending during the upcoming festive season" and found 31% households are looking for value for money purchases and 31% are looking for quality products. Out of 12,800 respondents, 16% said their top criteria will be convenience – which may mean likely shopping online via ecommerce or via catalogues of products from vendors in their area and placing an order for home delivery. Only 11% household respondents seem to be still thinking that COVID is still existent and saying their top shopping criteria will be Safety from COVID. Two other shopping criteria this year include the 7% households that will shop where they get the right selection or range and 4% households that are undecided on what will be their priority. 12,800 responses were received on this question in the survey.
The consumer sentiments this year on key criteria for shopping seems to be at a variance from last year as health and COVID safety concerns have diminished for many with 35% calling it out as their top shopping criteria last year post the 2nd COVID wave to only 11% this year. Those focused on convenience are almost the same with it being the criteria for 18% last year and 16% this year. Those with budget/value for money as the shopping criteria have reduced from 38% last year to 31% this year. Overall, budget/value for money and quality as many plan to visit retail stores for in person shopping are the two top criteria this festive season.
49% respondents plan to visit physical stores/markets this year while 38% are likely to order via ecommerce or via local stores and take home deliveries
The next survey question focused on channel for the festive spending. It asked household consumers, "how do you plan to purchase the majority of the items you need for this festive season" nearly half of the 10,689 respondents to the query expressed keenness to visit the mall/ stores/ market and buy. The breakup of data shows that as prevalence of Covid has dipped, people's appetite for going out and shopping is on the rise which is clear with the survey showing 49% respondents are keen to visit physical stores and make purchases. This is also largely the mode of shopping in tier 3, 4 districts and rural locations. During the festive season, a lot of branded stores, including garment outlets, tend to offer attractive discounts to attract youngsters and family shoppers. Convenience, health safety concerns, or discounts seem to be a major attraction for another set of respondents with 5% desiring that they "would like to have the stores to have their catalogue online and order for delivery via phone/whatsapp; 33% of the household consumers are keen to "place orders via ecommerce/ online sites/ apps during their festive sales; 3% shared that they have some other channels for making their festive purchases. The survey also revealed that there are 10% respondents who are still undecided from where they plan to make their festive purchases. These 10% represent an opportunity for ecommerce platforms like Amazon, Flipkart, Ajio, Myntra, etc. who generally announce their major annual sales earlier than physical retail stores.
Again, on the choice of primary channel used for festive shopping, 49% household consumers are more people keen to make their selection after visiting stores/ mall/ markets. Last year, the percentage of such people was 40% while this year it has risen to 49% and this is largely due to reduced COVID cases and COVID fear. Safety and convenience had last year seen 13% opting for home delivery after making selection from online catalogue by local stores, this year the demand for the channel has come down from 13% in 2021 to 5%.
The stores are however continuing to put their catalogue online or make them available through apps to woo consumers. Despite ecommerce growth, the LocalCircles survey shows that from 39% who used ecommerce platforms as the primary channel for festive shopping last year, this year only 33% are expected to use it as their primary channel. Some of the contributors to the phenomenon of consumers going back to visiting malls, retail stores, market shops, etc. can be attributed to people spending money in categories like jewellery, automobiles, home renovation/furnishings etc. some of which are traditionally more touch and feel than packaged groceries, consumer electronics, gadgets, etc.
20% increase in percentage of consumers likely to shop in stores/markets this festive season as compared to last year
35% household consumers are planning to spend on Diwali supplies and 26% are planning to spend on festive groceries; 13% on home renovation products
So, what all are the household consumers planning to buy? This next survey question asked respondents "what are all the categories in which your household is likely to make a purchase this season" revealed that 35% respondents are planning to buy "Pooja/ Diwali supplies including diyas, lamps, candle, lighting, flowers, etc."; another major group of 26% are planning "festival groceries like gift packs, gourmet foods, dry fruits, chocolates, fresh fruits, traditional sweets, etc."; 12% are planning to buy beauty and fashion products including apparels, cosmetics, shoes, bags, etc". As is the case in many households, 12% respondents shared plans for buying home renovation products (furniture, decorative, furnishing, paints, sanitaryware, lighting, etc.). What should bring cheer to the manufacturers and retailers is that 6% out of 12,892 respondents to the question revealed plans to buy white goods and appliances; 6% are planning to splurge on smartphones and consumer electronics; 4% are looking forward to buying jewelry, hopefully the global gold prices will dip to make the purchase more attractive; and 4% are planning to buy automobiles – cars, bikes, scooters, etc. Some of the respondents have selected more than one option in the survey.
6% household consumers plan to buy white goods and appliance; 6% to splurge on smartphones and consumer electronics; 4% likely to buy jewelry
Analytical company, CRISIL in a report on September 7 forecast that the consumer durables sector in India will see revenue grow 15-18% to Rs 1 lakh crore this fiscal, led by a 10-13% increase in volume. It is expecting demand to be driven by both urban and rural segments, though rural demand will come into play in the second half of the fiscal. So far, the industry had crossed the pre-pandemic mark in value terms last fiscal; this fiscal it is expected to scale past the pre-pandemic volume mark by 3%. If the 6% number holds out for spending on buying whitegoods and gadgets and 4% each on jewelry and automobiles, the e-tailers and retailers could both have a bumper festive season this year.
24% household consumers surveyed plan to travel; 20% are planning to undertake home repairs; 8% plan to get their homes painted
The survey also looked at the services sector, another key sector of the economy which was badly hit during the pandemic leading to loss of incomes and jobs. This festive season, the survey found rising sentiment for travel, home repair services, eating out or entertainment and other services. Of the nearly 12,000 respondents to the question that asked "what are all the services which your household is likely to spend on this festive season", 24% revealed plans to travel, whether by flight, train or road; 20% are planning to undertake home repairs; 8% plan to get their homes painted or white washed; 10% plan to avail of eating out options or home deliveries; personal care or grooming at saloon is part of wish list of 8% respondents. Automobile repair by 2% respondents, repair of gadgets, white goods and appliances is planned by 10% households with repair shops and home services back in business; 14% are looking forward to other services while 3% of the respondents are still to decide. More than one option was selected by some of the respondents. The survey shows people are gearing to put their lives and homes back on track or normalcy, which spells good news for the economy and people in the services sector, bulk of which is in the informal sector.
The finance ministry's Department of Economic Affairs (DEA) is optimistic that the contact-intensive services sector will drive growth in 2022-23 building on the release of pent-up demand and near universalization of vaccination. The release of pent-up demand and freer mobility may not be the only reasons underlying a tremendous growth in private consumption which has risen from 55.5% of GDP in Q1 of 2021-22 to 61.1% the corresponding quarter of 2022-23, the DEA states in its monthly economic review released on September 17. It stated that growth in private consumption is also broad based and not limited to contact intensive services sector as domestic auto and passenger vehicle sales have crossed the pre-pandemic level, according to the official data.
Consumer spending emanating from economic decisions of more than 200 million households in India forms a major portion (about 60%) of GDP as private final consumption expenditure, states the Reserve Bank of India (RBI), in a report 'Inflation Expectation and Consumer Spending in India: Evidence from Consumer Confidence Survey'. If LocalCircles applies the survey findings to the 200 million households in India and the average amount they are likely to spend, it finds that the total festive spending in 2022 will be 32 billion USD or higher.
In summary, the LocalCircles festive spending estimates that the festive season spending in 2022 at 32 billion USD is likely be higher than 2020 and 2021 and short of the festive season 2019 spending of USD 37 billion. The 33% households planning to spend over INR 10,000 during the festive season are likely to be the top drivers of this spending buying real estate to automobiles and from jewelry to gadgets. The top category where highest number of household consumers will spend this year on products include Diwali supplies and festive groceries and on services include home repairs and travel. When it comes to shopping criteria, with COVID spread being low, COVID safety is no longer a priority for most and they are likely to focus on either value for money or quality products as their top shopping criteria. Due to reduction in perceived COVID threat, there is likely to be a 20% increased foot fall in retail stores and markets this festive season as compared to last year and 49% of those shopping this festive season are likely to shop via visiting stores/malls/markets while 33% are likely to use ecommerce as their primary purchasing channel and 5% are likely to buy from local stores through phone call/whatsapp catalogue and avail home deliveries. All in all, 2022 is likely to be a strong festive season and should give the needed impetus to manufacturing, services and the travel and tourism sector.
Survey Demographics
The survey received over 58,000 responses from household consumers located in 362 districts of India. 64% respondents were men while 36% respondents were women. 44% respondents were from tier 1, 33% from tier 2 and 23% respondents were from tier 3, 4 and rural districts. The survey was conducted via LocalCircles platform and all participants were validated citizens who had to be registered with LocalCircles to participate in this survey.
About LocalCircles
LocalCircles, India's leading Community Social Media platform enables citizens and small businesses to escalate issues for policy and enforcement interventions and enables Government to make policies that are citizen and small business centric. LocalCircles is also India's # 1 pollster on issues of governance, public and consumer interest. More about LocalCircles can be found on https://www.localcircles.com
All content in this report is a copyright of LocalCircles. Any reproduction or redistribution of the graphics or the data therein requires the LocalCircles logo to be carried along with it. In case any violation is observed LocalCircles reserves the right to take legal action.
Enter your email & mobile number and we will send you the instructions.
Note - The email can sometime gets delivered to the spam folder, so the instruction will be send to your mobile as well