62% health insurance policy holders surveyed saw their premiums increase by 25% or more in 2022
---
● Of the 62%, 38% of them saw their premiums increase by 50%
● The increases come on the back of a significant increase in premiums in 2021
Aug 25, 2022, New Delhi: Are you among the lucky ones to be covered under a government healthcare or insurance scheme? If not, the uncertainty of being without health insurance cover or having to pay a higher premium than last year for you and your family's health insurance cover must have been a daunting task. The government's promise of "Universal Healthcare for All" by 2030 is a much-awaited dream by even those who annually dip into their savings to pay for medical/accident insurance, and yet fear the unknown given the ever-increasing healthcare costs which may not be covered by the insurance cover taken.
After thousands of posts and comments were received pertaining to sizable increase in health insurance premiums by LocalCircles, it decided to conduct a national survey to quantify the pain of citizens and to understand the increase in health insurance premiums at an aggregate level. The study which collected over 20,000 responses in two periods of August 2021 and August 2022 from citizens located in 287 districts of India asked people about the increase in health insurance premiums they experienced.
38% respondents had their health insurance premium go up by 50% or more in the last one year, while 24% citizens saw their premium increase by 25%-50%
38% out of the nearly 10,000 respondents to the question on "how much has your annual insurance increased in the last 12 months" said they had paid 50% or more, while 24% citizens had paid 25%-50% higher premiums and 11% had seen their health insurance premium go up by 10%-25%, another 9% paid 0%-10% higher premium. Only 18%, either did not have to shell out more or witnessed a dip in insurance premium or were unaware as their employer is taking care of it.
From the response to the LocalCircles survey this year compared to that done in August 2021 it is very clear that the magnitude of the increase in premium has caught many unaware. Last year while the percentage of respondents who experienced an increase of over 25% in health insurance premiums was 34%, this year that number has jumped to 62%. Overall, an average Indian, after experiencing a 10% increase in 2021 is now experiencing an average increase of 25%. Many senior citizens with independent policies are reporting a much higher increase of over 50% which is putting a squeeze on their retirement finances at a time when costs of most products like fuel, essentials are all rising.
Surging health insurance premiums: After experiencing an average increase of over 10% in health insurance premiums in 2021, majority of the Indians having health insurance see their premiums go up by 25% or more in 2022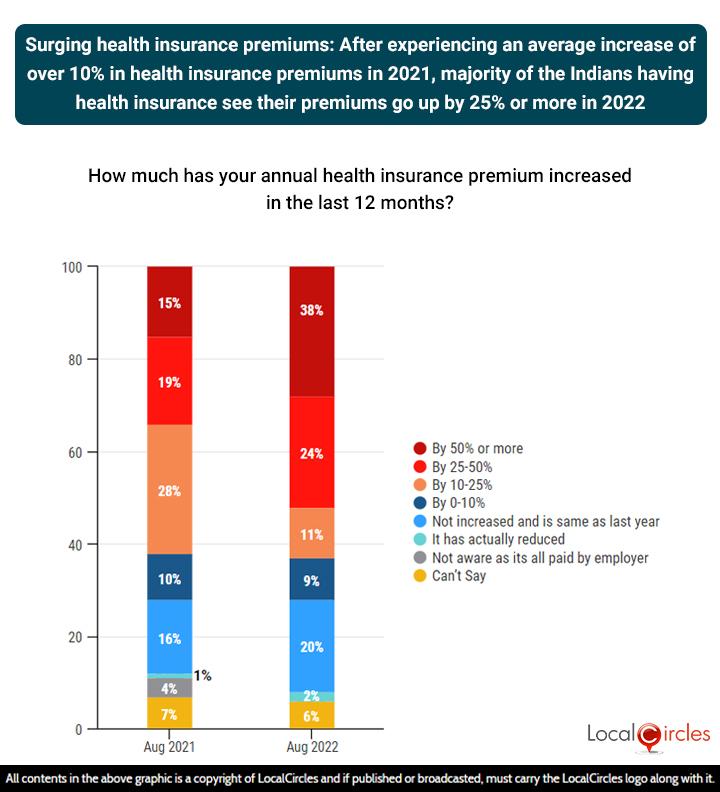 Per external estimates as well, post the Covid pandemic, health insurance premiums have increased anywhere between 10-25% for a number of reasons cited by insurance providers including high payouts during the last two years. In the case of senior citizens, according to policybazaar.com, an Indian insurance aggregator, "The health insurance premiums have increased by up to 100%". Feedback from citizens on LocalCircles suggests that for people over the age of 65 year, the premium amount has doubled over the last 2 years. For example, if the health insurance for two people in the year 2019 – 2020 was Rs. 28,000, then it is between Rs. 55,000 to Rs. 60,000 this year."
Another reason for the higher premiums this year, according to policybazaar.com is the Insurance Regulatory and Development Authority (IRDA) and expansion in coverage are some other factors behind the rise in price. In 2019 September, the IRDAI has introduced the standardization of the exclusions under insurance cover.
According to this, insurance providers are not eligible to exclude some specific diseases. IRDAI has made it mandatory for companies to provide coverage for some of the modern methods of treatment.
In summary, 3 in 5 Indians have experienced an increase of over 25% in health insurance premiums in 2022 after a sizable increase in 2021 with 38% of them seeing their premiums increase by over 50%. Such an increase is putting a squeeze on household budgets, especially those of the senior citizens who are facing the biggest increase. With COVID related hospitalisation claims in 2022 being a small fraction of those observed in April-June 2021, there is a need for the IRDA, the regulator and insurance companies to find ways to revise these premiums downwards and freeze any increases going in to 2023.
Survey Demographics
Over 20,000 responses were received from citizens across 287 districts of India. 67% of the respondents were men while 33% were women. 47% of the citizens were from metros or tier 1 districts, 35% from tier 2 districts and 18% from tier 3, 4 and rural districts. The survey was conducted via LocalCircles platform and all participants are validated citizens who had to be registered with LocalCircles to participate in this survey.
About LocalCircles
LocalCircles, India's leading Community Social Media platform enables citizens and small businesses to escalate issues for policy and enforcement interventions and enables Government to make policies that are citizen and small business centric. LocalCircles is also India's # 1 pollster on issues of governance, public and consumer interest. More about LocalCircles can be found on https://www.localcircles.com
All content in this report is a copyright of LocalCircles. Any reproduction or redistribution of the graphics or the data therein requires the LocalCircles logo to be carried along with it. In case any violation is observed LocalCircles reserves the right to take legal action.
Enter your email & mobile number and we will send you the instructions.
Note - The email can sometime gets delivered to the spam folder, so the instruction will be send to your mobile as well