3 in 4 Indian fliers surveyed concerned about flight safety; Believe financial situation of some airlines and weak audit/regulatory oversight key causes for incidents
---
● 44 percent domestic fliers citizens who travel on domestic airlines are currently avoiding taking a Spicejet flight while 21 percent each are giving Air India and Indigo a pass
● 46 percent domestic fliers surveyed believe financial situation of airlines is the key cause for safety incidents; 33 percent domestic fliers surveyed believe the key cause is weak internal/external audit systems and regulatory oversight
● Unique LocalCircles survey, also disseminated by news website Moneycontrol gets over 45,000 responses from domestic air travellers located in 302 districts of India
July 8th, 2022, New Delhi: Many air travellers are no longer keen on taking a flight after a spate of mishaps in a span of less than 20 days that revealed that airlines may be cutting corners on aircraft maintenance, thereby putting passenger safety at risk. This concern cannot be overlooked considering that on July 5, three aircrafts belonging to different airlines showed up to be not airworthy.
While IndiGo and Vistara airlines reported smoke and engine shut issues during their flight operations, one SpiceJet freighter plane had technical malfunction leading to the cancellation of flight to China. In the case of SpiceJet, there have been eight instances of technical malfunction in recent times.
With a large number of posts from citizens expressing concerns about flight safety, LocalCircles conducted a national survey on the subject which was disseminated by news website Moneycontrol in addition to the LocalCircles platform. The survey received over 45,000 responses from over 21,000 unique citizens located across 302 districts of India. 64% respondents were men while 36% respondents were women. 43% respondents were from metro or tier 1 districts, 35% from tier 2 districts and 22% respondents were from tier 3, 4 and rural districts.
The first question asked fliers that when they or their family members are traveling by flight, is safety a concern for them. In response, 42 percent said that they were concerned while 35 percent said they were only concerned if they were undertaking travel via a select few airlines. 16 percent respondents said that they were not concerned at all while 7 percent did not have an opinion. On an aggregate basis, 77 percent of the respondents admitted to being concerned about safety when they or their family was undertaking domestic air travel. This question in the survey received 15,184 responses.
77% citizens who travel on domestic airlines say they are concerned about flight safety when they and/or their family is travelling
Despite having rules in place, India compares poorly with many of the developing countries when it comes to safe air travel. One of the principal reasons is the fast increase in the number of airports and aircrafts over the last several years barring during the pandemic, which hit the civil aviation sector in India, similar to the trends seen globally.
The triple whammy of poor air travel sentiments, rise in aviation fuel costs apart from drop in air travel by both leisure and business travel during the pandemic have apparently hit the airlines, which as the latest incident of technical malfunction of the SpiceJet aircraft incident shows, may be a result of poor maintenance practices, a key to flight safety. In a show cause notice issued by the Directorate General of Civil Aviation (DGCA) on July 5, 2022, the civil aviation regulatory authority points out that its review of the aircraft operation has revealed that SpiceJet has on a number of occasions "either turned back to its origination station or continued landing to the destination with degraded safety margins". The DGCA has also noted that financial assessment of SpiceJet carried out in September 2021 "revealed that the airline is operating on Cash & Carry and Suppliers/Approved Vendors are not being paid on regular basis leading to shortage of spares and frequent invoking of MELs (Minimum Equipment List)" which is vital to ensure safe and airworthy condition of aircraft.
The next question asked fliers about whether they were avoiding any particular airlines due to concerns of safety. In this particular question, respondents were given the option of selecting one of more airlines if they were avoiding them when making a booking. In response, 44 percent of the respondents travelling on domestic routes said that they were avoiding SpiceJet flights over safety concerns, there are 21 percent each who said they were avoiding travel on Air India and Indigo, while Go First is being avoided by 18 percent domestic air travellers. 6 percent said they have been avoiding travel on Vistara due to safety concerns while 12 percent said they give Air Asia a pass due to safety issues. This question in the survey received 16,128 responses.
44% citizens who travel on domestic airlines are currently avoiding taking a Spicejet flight while 21% each are avoiding Air India & Indigo due to safety reasons
The next question in the survey focused on understanding from a flier perspective what they thought are the key root causes for so many safety incidents at different airlines. In response, 46 percent of the respondents attributed the rising airline safety incidents to the financial crunch being faced by some of the airlines leading to inadequate maintenance, while 18 percent blamed the regulator for "ineffective oversight". Weak internal and/or external safety audit systems were attributed by 15 percent respondents for the rising air safety concerns. 5 percent of the respondents said it was due to the lack of technical know how at some airlines while 10 percent attributed it to poor management of assets and resources. On an aggregate basis, 46 percent felt it was the financial situation at some airlines that was driver of the safety incidents while 33 percent attributed it to weak internal and external audit systems and regulatory oversight.
46% citizens who travel on domestic airlines believe increasing number of safety incidents are happening due to financial situation of airlines while 33% believe it is due to weak internal & external audit and regulatory oversight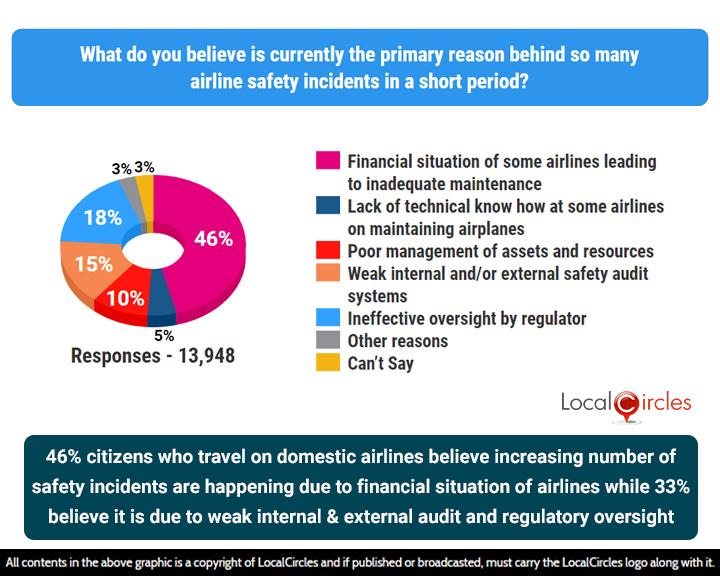 In summary, while the DGCA has issued notices to airlines post the recent safety incidents, 77% domestic fliers surveyed expressing safety as a concern when they or their family members are traveling is a noteworthy statistic. The concerns definitely are real because, when making a booking many have started avoiding traveling on certain carriers. In a price sensitive market like India, this is significant that some fliers are giving a higher priority to safety over lowest fare. 46% domestic fliers in the survey saying that it is the financial situation of some airlines that is driving safety incidents due to inadequate or ineffective maintenance is also a key finding. 33% in the survey saying that it is the weak internal & external audit systems that are root causes is also a noteworthy statistic for DGCA and the Ministry of Civil Aviation and something that they must examine in detail. The filers have been paying increased air fare imposed on them due to higher fuel prices, in some cases, double of what they were paying pre COVID and hence they expect safety to say the least. The DGCA must step up to the plate and ensure that there are no corners cut when it comes to maintenance and an unsafe airplane should be on ground serviced instead of flying passengers.
LocalCircles may share the findings of this survey with key stakeholders in the Government so actions can be taken on concerns expressed by the citizens who travel on domestic flights.
Survey Demographics
Over 45,000 responses from over 21,000 unique citizens located across 302 districts of India. 64% respondents were men while 36% respondents were women. 43% respondents were from metro or tier 1 districts, 35% from tier 2 districts and 22% respondents were from tier 3, 4 and rural districts. The survey was conducted via LocalCircles platform and all participants were validated citizens who had to be or get registered with LocalCircles to participate in this survey.
About LocalCircles
LocalCircles, India's leading Community Social Media platform enables citizens and small businesses to escalate issues for policy and enforcement interventions and enables Government to make policies that are citizen and small business centric. LocalCircles is also India's # 1 pollster on issues of governance, public and consumer interest. More about LocalCircles can be found on https://www.localcircles.com
All content in this report is a copyright of LocalCircles. Any reproduction or redistribution of the graphics or the data therein requires the LocalCircles logo to be carried along with it. In case any violation is observed LocalCircles reserves the right to take legal action.
Enter your email & mobile number and we will send you the instructions.
Note - The email can sometime gets delivered to the spam folder, so the instruction will be send to your mobile as well