As Delhi Government completes 2 years, citizens applause some efforts and identify areas of concern
---
Highlights
• Rate Government low on efforts related to ease of doing business, reducing pollution
• Believe big gap between pre-election promises and delivery in the last 2 years
• Suggest leadership minimize its confrontational and allegation oriented approach
14 February, 2017, New Delhi: Two years ago, when the elections were held in Delhi, no one could have anticipated that a newly formed political party could win 67 out of the 70 seats. Arvind Kejriwal and his team did it. The government has now completed its second year in Delhi.
Many questions have repeatedly been asked on the effectiveness and experience of the Delhi Government. As its second anniversary approached, citizen engagement platform LocalCircles conducted a detailed survey to understand how the citizens feel about the performance of the Delhi government in the last two years. Over 20,000 citizens of Delhi participated in the exercise with over 45,000 votes received on different questions. 66% of the participants were Men while 34% were Women.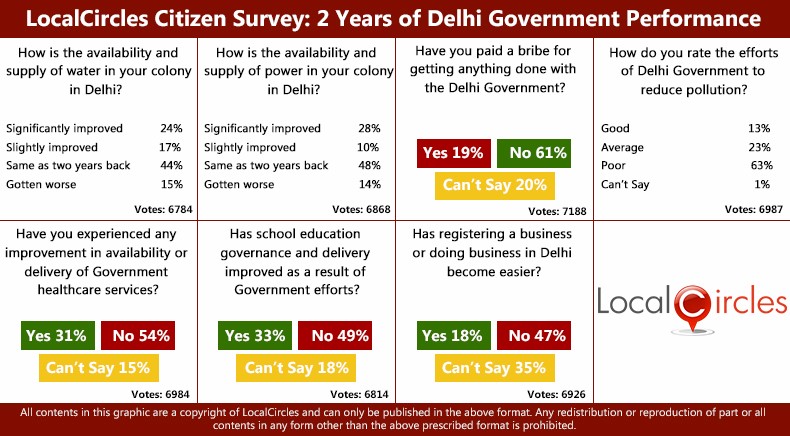 In one of the questions, 41% people said that the availability of water supply in their area had improved, whereas 44% said that it is the same as two years back. 15% said it had gotten worse.
In another question, 38% people said that availability of power supply has become better in their colony, with 48% saying it is still the same and 14% saying that it is on the downward slide. 61% said that they did not need to pay a bribe to any department of Delhi government to get their work done. Only 19% said that they had paid a bribe, with 20% citizens choosing not to answer the question.
The Mohalla Clinic project of the Delhi government was appreciated by the citizens of Delhi and 31% said that they have found an improvement in availability or delivery of government healthcare services in Delhi. 54% citizens still disagreed with it.
School education has been a hot topic of discussion with the Delhi government allocating a big piece of the state budget towards it. 33% people felt that there were some improvements made in this area due to the government's efforts. 49% people said that there have been no improvements in the school education governance and delivery.
AAP government tried to take some bold moves to reduce pollution in Delhi like the odd-even rule, car ban in Connaught Place etc. but only 13% citizens rated their efforts as good. 23% rated them as average due to the poor implementation strategy and a vast 63% marked them as poor.
Registering/doing business in Delhi is still a big pain point for the citizens with 47% saying that it is still a tough task to startup in Delhi. 18% said that starting up in Delhi has become somewhat easier and 35% were not sure about it.
Citizens have also highlighted law & order and cleanliness to be a big concern. According to the citizens, due to their confrontational attitude of the Delhi government leadership, it has not been able to work well with the civic bodies as well as Delhi police.
Below are qualitative Citizen inputs on Delhi Government in the last 2 years
Positives:
1. Corruption in Delhi Government offices has somewhat reduced
2. Water and electricity bills of common citizens have reduced
3. Mohalla clinics have made better healthcare accessible to the poor
4. Government schools are getting more funds and attention from the state government
Negatives:
1. Sizable amount of public money has been spent on promoting the Chief Minister and his party
2. Delhi Government has not been able to develop a synergy with the centre to work alongside for the development of the state and no attempts are made
3. The level of security in the state has not improved and people, especially women still feel unsafe
4. No major improvement in the state infrastructure
5. Nothing major has been done to improve the public transportation in the state
Enclosed are the detailed poll results:
Poll 1
Poll 2
Poll 3
Poll 4
Poll 5
Poll 6
Poll 7
About LocalCircles
LocalCircles takes Social Media to the next level and makes it about Communities, Governance and Utility. It enables citizens to connect with communities for most aspects of urban daily life like Neighborhood, Constituency, City, Government, Causes, Interests and Needs, seek information/assistance when needed, come together for various initiatives and improve their urban daily life. LocalCircles is free for citizens and always will be!
All content in this report is a copyright of LocalCircles. Any reproduction or redistribution of the graphics or the data therein requires the LocalCircles logo to be carried along with it. In case any violation is observed LocalCircles reserves the right to take legal action.