What Delhi NCR says about its milk: 2 in 3 households surveyed believe the milk they are consuming is not pure
---
● 35% surveyed believe their milk has water, fat and milk powder while 21% say it has adulterants too
● 96% households surveyed say their milk is traveling over 250 kilometers from the milking point and taking several days before reaching their doorstep
October 8, 2022, New Delhi: For an average Indian a glass of milk in the morning is a must for children and adults. For many others, the day doesn't start off on the right note without a cup of tea or coffee with some milk added. Milk and milk products right from butter to milk shakes, curd, lassi, etc., are part and parcel of the Indian diet.
During the last two years, though prices of milk have risen, the quality of milk supplied to consumers at large hasn't improved much per consumer complaints and some consumers have been regularly questioning the quality of milk. To understand the pulse of the consumers on their milk, LocalCircles conducted an extensive survey in Delhi and NCR to understand how households consume milk, their preferences, issues of milk quality and freshness. The survey asked consumers, questions related to consumption as well as got them to question their milk supplier on the supply chain aspects to get a better understanding for their own benefit as well as make fact-based contributions to the survey exercise.
This one of its kind survey received over 45,000 responses from household consumers located across all districts of Delhi, Noida, Ghaziabad, Gurugram & Faridabad. 63% respondents were men while 37% respondents were women.
58% households of Delhi NCR that consume milk, purchase 1.5 litres or more on a daily basis
The first survey question focused on understanding how much milk was being consumed on a daily basis by Delhi NCR households that purchase milk. It asked household consumers "On average, how many litres of milk does your household consume each day?" In response, 58% households in the Delhi NCR shared that they purchase 1.5 litres or more​ per day​. Of the 9,230 responses received to the query, 37% households shared that they consume 1.5-2 litres of milk on a daily basis; 11% consume 2.5 to 3 litre and 10% consume over 3 litres. On the other hand, 28% households indicated they consume 1 litre and 14% consume only half a litre. In effect, nearly one in three households in Delhi NCR consume half to one litre of milk every day.
73% Delhi NCR households that consume milk are purchasing branded milk in pouches either from milk outlets, retail stores or getting it home delivered
One of the areas where change has taken place over the last few decades in consumer behaviour in Delhi NCR has been in the type of milk purchased by households and that of procuring. The change has been rapid with the advent of smartphones and more so due to the pandemic and lockdowns when home delivery became an important channel in Delhi and NCR cities of Gurugram, Noida, Ghaziabad and Faridabad.
The next survey question asked respondents "What are the different types of milk that your household consumes on a regular basis? Respondents were given the option of selecting multiple options in case they were procuring multiple types of milk regularly." 73% of those surveyed said they buy milk in pouches. Of the 9,189 respondents to the question, 38% shared that they get branded milk delivered at home in pouches while 35% purchase branded milk from milk booths/ outlets or retail stores. 23% of households surveyed continue to buy loose milk or what is delivered by their regular milkman at their doorstep; 8% shared that they are buying branded milk which is sourced directly from the farms while another 8% said they are buying milk in tetra packs. Generally, those households that do not consume milk in direct form and use small amounts in tea/coffee/drinks opt for tetra packs as the milk lasts longer if refrigerated. The big change over the last few years though is that 46% are now getting their branded milk home delivered through apps or local suppliers in pouches/bottles.
91% of Delhi NCR households that purchase milk are using it in form of tea/coffee/shakes etc. while 78% are drinking it without changing form​
The third question in the survey sought to understand consumption of milk by household consumers. It asked, "What are all the forms in which milk is consumed by your household?" Of the nearly 9000 respondents to this question, many chose more than one option thus data reveals that 91% use milk with their cup of tea/ coffee or to make some shakes / drink; 78% consume milk without change of form; 70% of the respondents also said they make milk products like curd, paneer, etc. at home and then 43% of the respondents said they use the milk and extract cream to make butter and ghee. All in all, the top forms of consumption for households that purchase milk remain usage in tea/coffee/drinks or consuming milk in its original form.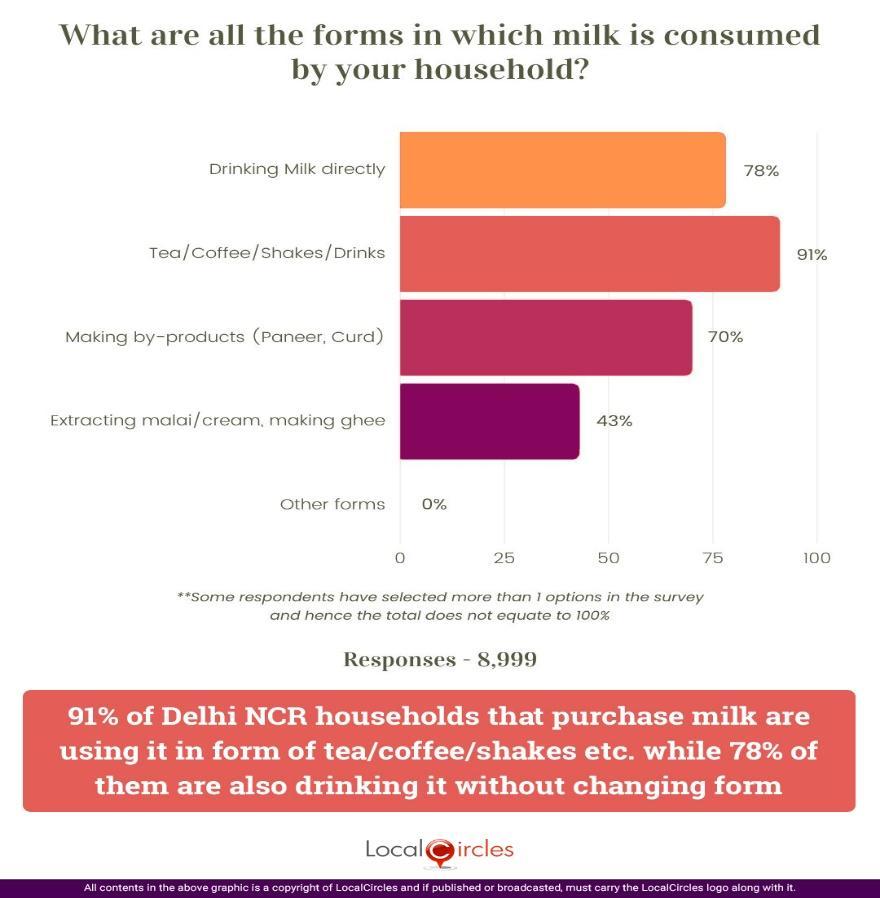 2 in 3 Delhi NCR households that consume milk do not believe that it is 100% pure cow or buffalo milk
One of the top concerns that consumers in Delhi NCR have been regularly raising on LocalCircles is the quality and purity of milk and in some cases concerns about adulteration. A national study by FSSAI on milk in October 2019 listed impure water, urea, starch, glucose, formalin, hydrogen peroxide and detergents as some of the adulterants. The presence of Aflatoxin M1 was also studied in this survey and 38 out of the 262 samples in Delhi were found to carry the same. Aflatoxins are toxins produced by certain fungi which are generally found in agricultural crops like maize, peanut, cotton seeds and are carcinogenic in nature.
Many consumers of Delhi and NCR are also of the understanding that toned and double toned milk has skim milk powder in it. Also, in community discussions some consumers expressed concerns about external fat being added to milk in some cases in an attempt to achieve certain metrics. To quantify the understanding of household consumers in Delhi and NCR about purity of milk, the next question in the survey asked "What do you believe are the constituents of the milk consumed regularly by your household?" Out of 9356 respondents, 2 in 3 believe that the milk they consume is not pure and only one-third believe that they are getting pure cow or buffalo milk. Of the two-third respondents, 21% believe the milk bought by them has some water, fat and milk powder added; another 21% believe that besides water, fat and milk powder the milk procured by them has adulterants; and 17% believe the milk bought by them is being diluted with water. In addition, 8% of the respondents were uncertain about the quality of the milk they are consuming.
96% Delhi NCR households surveyed say the milk they consume travels over 250 kms from the point of milking to reach their doorstep
Delhi has regularly been tightening rules for dairies to operate in the city with the latest revision done in September 2020 where the CPCB guidelines were operationalized. As a result, very few dairies of scale are operating in the city of Delhi. The next question asked household consumers about their understanding of the distance their milk is traveling from the point of milking to their doorstep. Here respondents were asked to share the information and if unaware, check with their milk supplier to find out and then respond. The question in the survey asked respondents "What is your understanding of how long a distance your milk travels from the point of cow or buffalo milking to your doorstep?" The responses revealed that almost half or 48% of the 9008 respondents to the query said that their milk is being transported anywhere between 250-500 kms before reaching them. Another sizable chunk of 47% respondents felt that milk being bought by them reached them after being transported over 500-1000 kms. Just 1% of respondents felt the travelling distance was over 1000 kms, another 1% were uncertain. Only 3% of the respondents said that their milk came from within a 250 kms distance. With some of the major milk manufacturers having their production units in different states and the process of milk aggregation in those states via co-operatives, 96% of the household consumers surveyed believe that their milk is travelling over 250 kilometers to reach their doorstep. The long distance travelled over several days to a week could also be somewhat contributing to the purity and quality of milk, according to Delhi NCR milk consumers.
In summary, the survey finds that while households of Delhi NCR are active consumers of milk, 2 in 3 surveyed are of the opinion that the milk they are consuming on a regular basis is not pure. While 35% of them believe their milk is diluted with water or has milk powder and added fat content, 21% believe in addition to these, it also has adulterants. According to the survey, 96% of household consumers surveyed in Delhi NCR believe that their milk is traveling over 250 kilometers from the point of milking to reach their doorstep. The long distance traveled and the days associated with it also have an impact on quality according to people.
Last month, the Prime Minister of India while inaugurating the World Dairy Summit in Greater Noida said "the potential of dairy sector not only gives impetus to the rural economy but is also a major source of livelihood for crores of people across the world. Basis feedback received in the community discussions associated with the study, Delhi NCR residents want dairy farming to be encouraged in nearby districts if not feasible in Delhi and NCR such that more milk can be produced and distributed locally at scale leading to households receiving their milk pure and faster.
Survey Demographics
The survey received over 45,000 responses from household consumers located across all districts of Delhi, Noida, Ghaziabad, Gurugram & Faridabad. 63% respondents were men while 37% respondents were women. The survey was conducted via LocalCircles platform and all participants were validated citizens who had to be registered with LocalCircles to participate in this survey.
About LocalCircles
LocalCircles, India's leading Community Social Media platform enables citizens and small businesses to escalate issues for policy and enforcement interventions and enables Government to make policies that are citizen and small business centric. LocalCircles is also India's # 1 pollster on issues of governance, public and consumer interest. More about LocalCircles can be found on https://www.localcircles.com
All content in this report is a copyright of LocalCircles. Any reproduction or redistribution of the graphics or the data therein requires the LocalCircles logo to be carried along with it. In case any violation is observed LocalCircles reserves the right to take legal action.
Enter your email & mobile number and we will send you the instructions.
Note - The email can sometime gets delivered to the spam folder, so the instruction will be send to your mobile as well