With 3 individuals on an average in most families experiencing pollution ailments, 72% Delhi NCR residents surveyed hold Delhi Government most responsible
---
● 44% also hold the Punjab Government responsible and 32% point at Central Government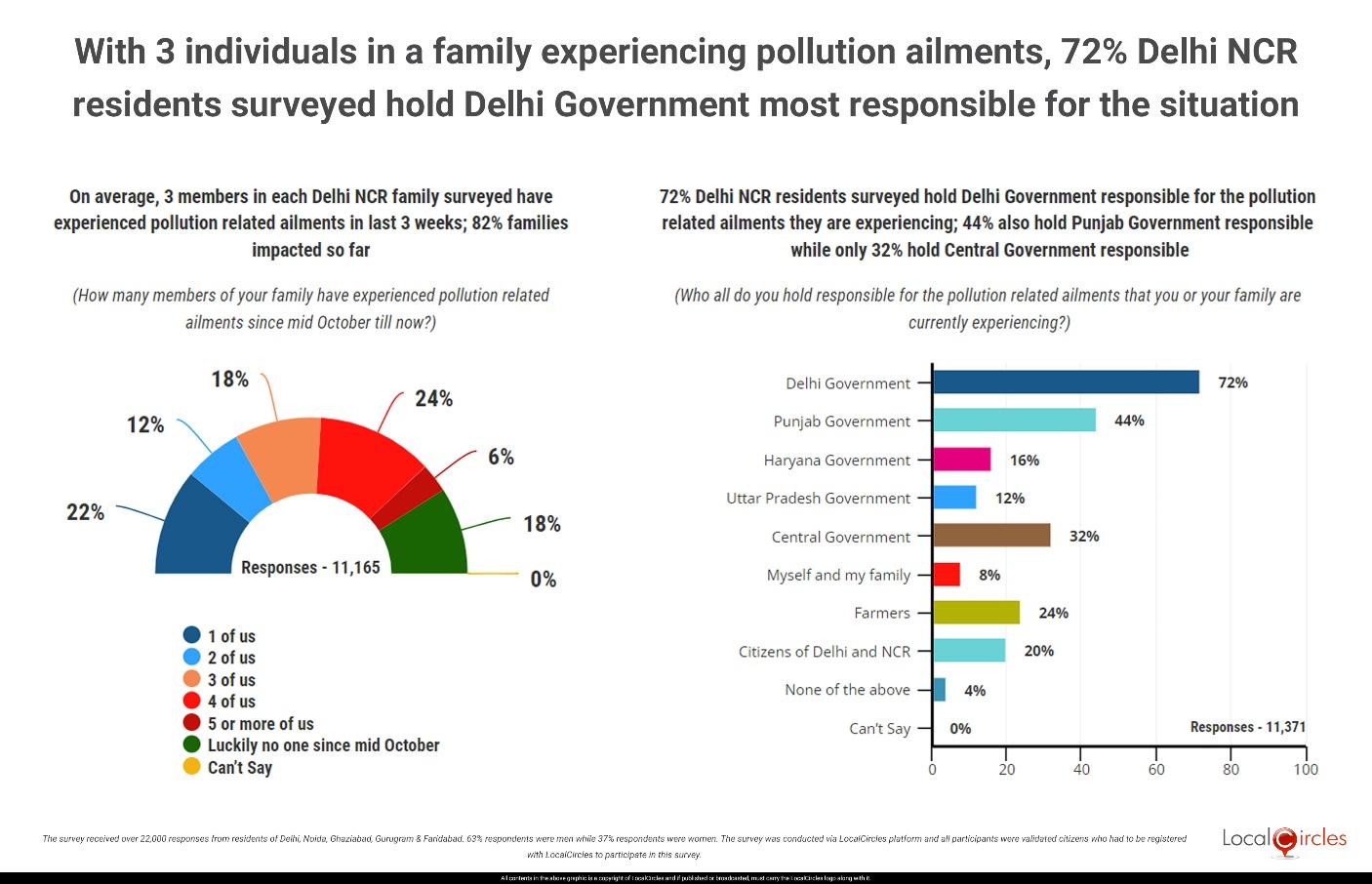 November 11, 2022, New Delhi: The toxic smog has been hanging over Delhi and NCR for over 4 weeks now with the last 3 being really tough on the residents. Though the severity of the air pollution has dipped in the last few days due to direction of wind the situation has again started worsening this morning with many parts of Delhi NCR recording a PM 2.5 of over 400.
India's capital city New Delhi was adjudged the most polluted city in the entire world, followed by Kolkata, West Bengal, by US-based Health Effects Institute in its report 'Air Quality and Health in Cities', released in August. The HEI analysis of the most polluted cities in the entire world was done on the basis of the quantity of two of the most harmful pollutants in the atmosphere - fine particulate matter (PM2.5) and nitrogen dioxide (NO 2). Ambient (outdoor) air pollution causes fine particulate matter which can result in strokes, heart diseases, lung cancer, acute and chronic respiratory diseases. The combined effects of ambient air pollution and household air pollution is associated with 7 million premature deaths annually, according to the World Health Organisation (WHO).
The last two surveys released by LocalCircles on October 30th and November 4 had revealed that the percentage of Delhi NCR residents or their family members who were experiencing pollution related ailments had risen from 70% to 80% families in just 5 days. In addition, 18% Delhi NCR families surveyed had one or more members having to visit a Doctor or a Hospital for pollution related ailments in the last few weeks. This is when 13% of the respondents said that they have left Delhi NCR temporarily. When the feedback from just those respondents who have one or more family members experiencing one or more health issues due to pollution was reviewed, it brought out a grim scenario of many experiencing sore throat and/ or cough, burning eyes, runny nose and/or congestion, breathing difficulty/ asthma, headaches, problems in sleeping, besides anxiety and/ or difficulty concentrating. Of those surveyed 69% had indicated having sore throat and cough while 44% were having headache and sleeping difficulty due to pollution.
On average, 3 members in each Delhi NCR family surveyed have experienced pollution related ailments in last 3 weeks; 82% families impacted so far
Since LocalCircles continued to receive inputs from residents of Delhi and NCR cities on the subject of pollution, it conducted a follow-on survey which received over 22,000 responses from residents of Delhi, Noida, Ghaziabad, Gurugram and Faridabad. 63% respondents were men while 37% respondents were women. The new survey asked residents "How many members of your family have experienced pollution related ailments since mid-October till now?" to which the respondents have indicated that on an average 3 members in each Delhi NCR family surveyed have experienced pollution related health issues in the last 3 weeks while the percentage of families experiencing problems has further increased from 80% to 82% in last 6 days. Break up of data shows just 18% of the 11,165 respondents to this question have no one in their household feeling the ill effects of poor air quality. Of the remaining, 22% had one family member unwell; 12% have two unwell; 18% have 3 unwell; 24% have 4 unwell and 6% households have 5 or more family members unwell. Considering that most households have three to five family members / relatives/ friends living together, the survey outcome paints a picture of deep concern.
As health experts have been emphasizing, children, the elderly, those with pre-existing health conditions like asthma, heart problems, etc., are more susceptible to hazardous or severe air quality. That is not to say others don't face long term health consequences of living in a polluted environment. "It increases the risk of respiratory infections, heart disease and lung cancer. Both short- and long-term exposure to air pollutants have been associated with health impacts," according to the WHO report.
The problem of high levels of pollution in Delhi NCR has existed since 2014. Introduction of subsides, late availability of power to the farmers during summer paddy season and as a result burning of stubble to clear up fields in Punjab for sowing wheat has led to rising pollution levels in Delhi and NCR cities. While commitments have been made by the State Governments of Punjab and Delhi and even the Central Government, not must has been done to find solutions and control air pollution levels. The next question in the survey asked residents of Delhi NCR "Who all do you hold responsible for the pollution related ailments that you or your family are currently experiencing?" Many among the 11,371 respondents to this query held more than one entity responsible for the present air pollution crisis but overwhelmingly nearly 3 in 4 held the Delhi government responsible followed by 44% also holding the Punjab government responsible. Though both the states are being governed by the Arvind Kejriwal led Aam Aadmi Party, yet there seems to have been no coordinated efforts by the political leaderships to tackle a major issue which has been witnessed year after year during the winter months post paddy harvest. The fact that other neighbouring states witnessed fewer stubble burning cases has not been lost as fewer respondents have attributed the responsibility also to them – 16% of respondents have held the Haryana government responsible and 12% the Uttar Pradesh government; 32% respondents also held the Central government responsible for not leading a coordinated effort to control pollution and letting the state Governments of Delhi and Punjab fail. Many among the respondents believed that the citizens of Delhi NCR are themselves to be blamed for the pollution. The data shows 8% hold themselves and their family responsible; 20% citizens of Delhi NCR; 24% also hold farmers responsible while 4% did not hold anyone responsible for the air pollution.
72% Delhi NCR residents surveyed hold Delhi Government responsible for the pollution related ailments they are experiencing; 44% also hold Punjab Government responsible while only 32% hold Central Government responsible
​​In summary, with 82% of those surveyed admitting that one to five and more members ​of their family have been experiencing the ill effects of high air pollution this year, on average 3 members of every family have experienced the effects of pollution in the last 3 weeks. Assuming a family of 4-6 members, it means that 40-50% citizens of Delhi NCR have experienced one or more ailments due to pollution.
It is not ​​unreasonable for Delhi NCR residents to expect better action and planning from the administrators and political leadership. The Delhi Government has been in power for almost eight years and according to 72% of Delhi NCR residents surveyed are responsible for their ill health due to pollution. 44% of them also hold Punjab Government responsible as it has not done much in the last 7 years. In March when AAP formed the Punjab Government, people of Delhi and NCR had a lot of hopes that at least the magnitude of pollution would reduce as solutions to stubble burning would be implemented but so far both these state governments have nothing to show. Similarly, 32% people also held Central Government responsible for showing lack of leadership and interest in coordinating measures to tackle pollution problems and working with the Delhi and Punjab government. While political blame games and mudslinging continues, residents of Delhi NCR struggle to breathe, hoping that next year will be better provided these elected leaders put their act together.
Survey Demographics
The survey received over 22,000 responses from residents of Delhi, Noida, Ghaziabad, Gurugram & Faridabad. 63% respondents were men while 37% respondents were women. The survey was conducted via LocalCircles platform and all participants were validated citizens who had to be registered with LocalCircles to participate in this survey.
About LocalCircles
LocalCircles, India's leading Community Social Media platform enables citizens and small businesses to escalate issues for policy and enforcement interventions and enables Government to make policies that are citizen and small business centric. LocalCircles is also India's # 1 pollster on issues of governance, public and consumer interest. More about LocalCircles can be found on https://www.localcircles.com
All content in this report is a copyright of LocalCircles. Any reproduction or redistribution of the graphics or the data therein requires the LocalCircles logo to be carried along with it. In case any violation is observed LocalCircles reserves the right to take legal action.
Enter your email & mobile number and we will send you the instructions.
Note - The email can sometime gets delivered to the spam folder, so the instruction will be send to your mobile as well