74% Delhi parents do not support re-opening of schools at this time
---
● DDMA decision in line with survey findings
● 66% parents in Delhi will support re-opening of schools once TPR falls to 2% of lower
January 27, 2022, New Delhi: In light of the new COVID variant Omicron leading a surge in daily cases, the Government of Delhi in late December imposed a series of restrictions, including shutdown of in-person schools, to curb the spread within the state. According to the Delhi State Health Bulletin of Jan 26th, the test positivity rate (TPR) in the state has shown a gradual decline at 10.59%, which had peaked on January 14th at 30.64%. Though testing has declined considerably, the feedback from citizens on LocalCircles also indicates that there is a decline in cases. Delhi reported on Wednesday 7,498 cases out of 70,804 tests conducted across the city, with 29 deaths.
However, schools continue to get impacted with the Delhi Government maintaining that as TPR is gradually declining it has become imperative to reopen schools in the state to bridge the learning gap of students and to ensure their social, emotional and mental well-being. In states like Maharashtra, the State Government has announced the reopening of schools from January 24th, while allowing local bodies to take the decision on reopening schools after assessing the COVID situation in their respective areas. In cities, like Pune and Aurangabad, schools have been decided to be kept shut while classes continue in the online mode.
According to studies, the transmissibility rate of the Omicron variant of SARS-CoV-2 is 5 times higher than the Delta variant that caused the 2nd wave of the outbreak in India. According to the World Health Organisation (WHO), the Omicron variant has three descendent lineages, BA.1, BA.2 and BA.3. Among them, there is a significant presence of BA.1 and BA.2 in the country. Multiple Government's in Europe in last 1 week raised the alarm on the possibility of re-infection by BA.2 variant post a BA.1 infection and several parents and paediatricians from Europe and USA are reporting the same. Denmark which is experiencing a BA.2 led wave post a BA.1 wave is reporting massive rise in hospitalisations of children.
Meanwhile, there has been an introduction of several kinds of masks since the beginning of the pandemic. Based on research in the public domain, LocalCircles has put together what it takes for Omicron to transmit between two individuals (infected and vulnerable) based on their masking status and when they are indoors & 6 feet apart. The time required to reach an infectious dose for an individual from an infected individual if both are wearing an N-95 mask is 3 hours 24 minutes of exposure for the Omicron variant of SARS-COV2. However, the time required to reach an infectious dose for an individual from an infected individual if neither is wearing a mask or are wearing a cloth mask is just 2 minutes of exposure. Schools if working in-person will need to give children a break for snack or lunch and the 2-minute exposure time without masks makes children highly vulnerable to catching the infection from another child.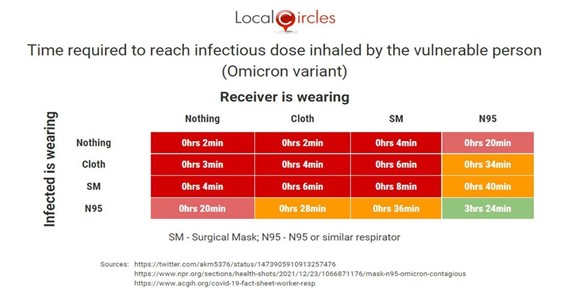 As parents have been expressing their opinions on LocalCircles about re-opening of in-person schools, LocalCircles conducted a survey on what should be the criteria to reopen schools in the capital. The survey received 9,876 responses from residents across all districts of Delhi. 62% of the respondents were men while 38% were women.
Once test positivity in Delhi falls to 2% of lower, 66% parents will support re-opening of schools
The survey asked residents of Delhi, "What should be the criteria to restart in-person schools in Delhi?" In response, 20% said "Restart in-person schools immediately without delay". There were, howerver, 6% saying restart in-person schools once TPR drops to "10% or lower", 25% said when TPR drops to "5% or lower", 15% said "2% or lower" and another 15% said "1% or lower". 19% said "Only look at restarting in-person schools in next session in March-April this year". The findings indicate that once TPR in Delhi falls to 2% or lower, 66% of parents will support re-opening of schools. This question in the survey received 9,876 responses.
As the situation in Delhi stands right now with TPR slightly over 10%, 74% parents per the survey are still unwilling to send their wards for in-person classes. However, once the TPR falls to 2%, 66% of the parents in Delhi would be willing to send their children for in-person classes.
Basis inputs from scientists, epidemiologists, virologists and paediatricians, data from the risk of re-infection by BA.2 sub-variant post BA.1 infection and transmissible nature of Omicron and survey findings, a more conservative approach is warranted in regard to reopening of schools at this time. Once the test positivity rate drops to 2% and if new variants or sub-variants are not rising, reopening of schools must be pursued in Delhi.
LocalCircles had shared the findings of this survey with the Lieutenant Governor of Delhi ahead of the DDMA meeting today and is glad that the recommendation has been accepted to keep in-person schools closed for the time being. The data must be watched on all the above fronts closely and an informed decision be taken to open schools if test positivity rate reaches 2%.
Survey Demographics
9,876 responses from residents across all districts of Delhi. 62% of the respondents were men while 38% were women. The survey was conducted via LocalCircles platform and all participants are validated citizens who had to be registered with LocalCircles to participate in this survey.
About LocalCircles
LocalCircles, India's leading Community Social Media platform enables citizens and small businesses to escalate issues for policy and enforcement interventions and enables Government to make policies that are citizen and small business centric. LocalCircles is also India's # 1 pollster on issues of governance, public and consumer interest. More about LocalCircles can be found on https://www.localcircles.com
All content in this report is a copyright of LocalCircles. Any reproduction or redistribution of the graphics or the data therein requires the LocalCircles logo to be carried along with it. In case any violation is observed LocalCircles reserves the right to take legal action.
Enter your email & mobile number and we will send you the instructions.
Note - The email can sometime gets delivered to the spam folder, so the instruction will be send to your mobile as well