79% Indian consumers who buy services/tickets online are fed up with excessive convenience fee for such transactions
---
● With some platforms charging up to 20% of transaction value; 83% consumers unhappy with excessive convenience or service charges
● 79% consumers say they are being charged convenience fee/internet handling/service charges for majority of the transactions
● Many report experiencing the issue recently with tickets of blockbuster movies and cricket matches
October 25, 2023, New Delhi: With multiple Bollywood blockbuster movies and thereafter the ICC Men's Cricket World Cup 2023, most consumers have been booking their tickets online and been subjected to what is called as convenience fee or internet handling charges. These charges are levied by ticket or service booking platforms like BookMyShow, PVR, IRCTC or many others that provide ticket booking services with this fee in some cases being as high as 20% of the transaction value.
According to a Reserve Bank of India (RBI) notification on April 21, 2022, "Convenience Fee is a fixed or pro-rata charge on use of credit/debit cards as one of the alternative forms of payment which is not ordinarily accepted vis-à-vis other forms of payment." The notification stipulates that if convenience fee is charged on specific transactions, it "shall be indicated to the cardholder in a transparent manner, prior to the transaction".
The fact is that despite this guideline, only a handful of portals display this information up front. This holds true even for government owned entities like IRCTC. Most platforms also charge this convenience fee according to the number of seats booked as opposed to one fee for the entire transaction so for four movie tickets bought together in one payment transaction, the consumer pays convenience fee on each one of the four seats.
LocalCircles has received hundred plus complaints from consumers across India about excessive transaction fee in response to its September 2022 survey on the subject where many even suggested that convenience fee was turning out to be an impediment in Government's Digital India mission. Given strong consumer interest in the subject and no action from any Government stakeholder, LocalCircles decided to conduct a follow-on survey to study some additional aspects.
41% consumers claim they have been charged convenience fee for all services purchased online and 38% share they have been charged convenience fee for majority of the services purchased online
The first question in the survey focused on understanding if any of the platforms took action in 2023 and stopped or reduced charging convenience fee. It asked consumers, "What has your experience been with convenience charges in the last 12 months'. Over 11,000 consumers responded to this query with 41% claiming that they have "been charged convenience fee for all services purchased online" and 38% shared they had "charged convenience fee for majority of the services purchased online". However, 16% claimed they had "never been charged convenience fee for services purchased online and 5% of respondents gave no clear reply. On an aggregate basis, 79% consumers surveyed claim they are being charged convenience fees for services they have booked online.
When services like tickets are procured digitally, the supplier or seller is able to lower cost of manpower and facilities and instead spend more on deployment of user interfaces and backend servers. However, despite the net cost savings, most platforms whether selling movie or sports tickets, railway tickets or airline seats are levying this convenience, internet handling or service fee which is beyond comprehension for most consumers.
83% consumers who purchase a ticket/service online are disapprovingly paying convenience fee
As the convenience charge generally gets displayed at the end of the booking on most platforms, the next question in the survey asked consumers "When you see convenience or service charges being levied on purchase of tickets/services, how do you proceed with the purchase or booking?" Out of the 10,960 respondents only 10% indicated that they "happily pay, at least I don't have to stand in a queue"; 5% prefer to stand in a queue and buy the ticket / service; but 83% "pay disapprovingly" and 2% of the respondents gave no clear response. What this indicates is that while most consumers are unhappy about the platforms levying a convenience fee, they are paying it because they have gone through the registration process, seat/service selection process etc. and close to concluding the transaction. Most consumers would rather have the platforms display this information upfront so they can make an informed choice.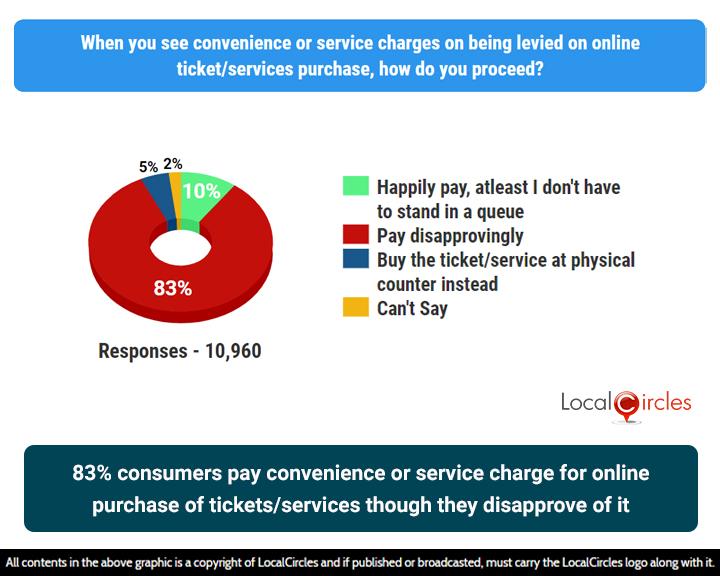 84% consumers want the Government and its PSUs to stop charging convenience fee or service charges and promote Digital India
The next survey question focused on finding a way forward and asked consumers, "Should the Government eliminate convenience charges for online bookings of services/tickets sold by its departments and PSUs?" 84% of 10,765 respondents to this question said "Yes"; 10% said "No" and 6% said "can't say". A sizable number of consumers believe that the Government should take the lead and set the example by charging no convenience, service or transaction fee on digital transactions done by consumers with Government agencies and PSUs. Some consumers also cited the example of UPI payments where no charges are being levied. Consumers want similar practices to be adopted by other Central Government bodies, PSUs and State Government bodies.
In summary, the survey finds that 79% of the consumers who buy services/tickets online are fed up with excessive convenience fee/service charge/internet handling fee being levied by platforms. They feel that this excessive fee is coming in the way of Digital India and more people purchasing services/tickets online. Consumers have reported this fee being as high as 20% of the transaction value in some cases. 83% of the consumers who are paying this fee are doing so, disapprovingly. Consumers feel that in addition to platforms selling movie, sports, concert, airline or bus tickets, even Government platforms like IRCTC are levying this fee and should set an example by charging zero convenience fee. Realising that the Government or its regulators are unlikely to get private platforms to waive convenience fee, the survey asked consumers if some common standards or upper limits can be set. Most consumers in the community feedback exercise indicated that it should be the lower of the two that should be levied as convenience fee.
LocalCircles will escalate the findings of this survey with Ministry of Finance, Reserve Bank of India and the Department of Consumer Affairs for their understanding and action.
Survey Demographics
The survey received over 42,000 responses from consumers located in 346 districts of India. 64% respondents were men while 36% respondents were women. 45% respondents were from tier 1, 33% from tier 2 and 22% respondents were from tier 3, 4 and rural districts. The survey was conducted via LocalCircles platform and all participants were validated citizens who had to be registered with LocalCircles to participate in this survey.
About LocalCircles
LocalCircles, India's leading Community Social Media platform enables citizens and small businesses to escalate issues for policy and enforcement interventions and enables Government to make policies that are citizen and small business centric. LocalCircles is also India's # 1 pollster on issues of governance, public and consumer interest. More about LocalCircles can be found on https://www.localcircles.com
All content in this report is a copyright of LocalCircles. Any reproduction or redistribution of the graphics or the data therein requires the LocalCircles logo to be carried along with it. In case any violation is observed LocalCircles reserves the right to take legal action.
Enter your email & mobile number and we will send you the instructions.
Note - The email can sometime gets delivered to the spam folder, so the instruction will be send to your mobile as well