Consumer Protection (e-commerce) Guidelines: Results of Preliminary Consumer Consultations
Executive Summary
The Department of Consumer Affairs has been in the process of creating the consumer protection guidelines for ecommerce which would set the ground rules for protecting the rights and interests of the consumers when they shop on ecommerce sites. Recently, a draft of these rules was released by the department for formal consultation. These new guidelines under the Consumer Protection Act 2019, are targeted at reducing fakes & counterfeit products, unfair trade practices and protecting consumer interest.
These guidelines have been developed by the Department of Consumer Affairs only after preliminary consumer consultation in the Connected Consumers community on LocalCircles and hundreds of thousands of consumers from across India have participated. Now that the draft guidelines are in public domain, ecommerce platforms and sellers can also share their views before the rules are finalised.
The key areas that have been covered in the rules include preventing price influencing, addressing counterfeit, improving integrity of reviews as well as increasing transparency of terms ecommerce have with sellers and disclosure of seller information. These rules can be implemented under the Consumer Protection Act 1986 or the new Consumer Protection Bill, independent of the ecommerce policy and can be fine-tuned once the ecommerce policy is finalised as the enforcement of the policy anyways will lie with the respective domain ministries.
The Consumer Protection (e-commerce) guidelines will cover all ecommerce entities selling products & services to consumers i.e. marketplaces, ecommerce inventory-based sellers, all service providers selling online services, i.e. food delivery services, taxi services, travel services, insurance services, personnel services, peer-to-peer marketplaces for new and used goods, event ticketing services, medical services, online pharmacies, maintenance & household services, coupon services, hotel & accommodation services, content subscription services and any social commerce conducted via social networking platforms.
The Consumer Protection (e-commerce) guidelines are designed to empower the consumer and help increase consumer trust in the sector in long run. Currently most ecommerce platforms don't disclose seller details or their general terms with them and hence the consumer has very little in their hands to hold them accountable in case a fake product is received or a return is rejected and these guidelines if enforced will change that.
The detailed results of the consumer consultations that were conducted on LocalCircles are given below:
Counterfeit/Fake Products on Ecommerce Sites
Indian ecommerce companies make millions during various sales that happen around the year and the trend of buying big and small items from the ease of your mobile phone is spreading like wildfire. Many ecommerce sites have already put up two rounds of sale, and some are even preparing for the third. Although ecommerce brings a lot of comfort to the consumers, there is no guarantee that the products they receive are all originals. LocalCircles conducted a survey to check how big the problem of counterfeit or fake goods on ecommerce sites is. The revelations that this 7-poll survey made have been utilised in the formation of guidelines that will reduce counterfeiting in ecommerce.
This survey received more than 57,000 votes and over 30,000 unique consumers from across India participated in the exercise. 19% consumers in the first poll said that they have received a counterfeit product from an ecommerce site in the last 6 months. 57% said this has never happened to them while 24% were unsure about it.
Poll #1
19% consumers received a counterfeit product from an eCommerce site in the last 6 months
Poll #2
79% consumers say incase of counterfeit product shipped eCommerce sites must pay some penalty in addition to product return & refund
The second question asked what the ecommerce sites should be required to do by law if a product received from their site is found to be counterfeit. 49% said they should accept return and issue a full refund plus a penalty based on the product value. 30% said they should accept return and issue a full refund plus a fixed counterfeit penalty. 18% said ecommerce sites should just accept return and issue a full refund while 3% consumers were unsure about what should be done.
Poll #3
Consumers say they have received the highest number of counterfeits from eCommerce sites in fragrances and cosmetics category
In the following question, 35% consumers identified perfumes and other fragrances as the top category for counterfeit products on ecommerce sites. 8% identified it as bags, 22% as sporting goods and 35% said cosmetics.
Poll #4
98% citizens want eCommerce sites to blacklist sellers for the category that they are selling counterfeit products in
The next question asked consumers if all ecommerce companies should be required by law to blacklist any seller from the category, they are selling counterfeit products in. 98% respondents replied in a 'yes'. This is a reasonable ask that the consumers feel must be implemented by the Government. Such a rule will reasonably penalise seller as the eCommerce site will be required to only bar them from that particular category where they were found selling counterfeit products while still allowing them to sell in other categories.
Poll #5
Only 16% consumers confident about being able to identify a counterfeit product
This question asked consumers if they know how to identify a counterfeit or fake product. Only 16% said yes to it while 69% said they did not know how to identify a fake product. 15% were unsure about it.
Poll #6
78% consumers feel counterfeit activity on eCommerce sites will reduce if details of the sellers are published
78% consumers also feel that the counterfeit activity on ecommerce sites will reduce if details of the seller like company name, address, GSTIN, email, phone numbers etc. were disclosed on ecommerce sites. Only 14% did not agree with it.
Poll #7
92% consumers want eCommerce sites to have a filter that allows them to find authorised seller product listings
In the final question, 92% consumers said they want ecommerce sites to have a filter that allows them to find authorised seller product listings.
Zomato was in the news earlier this year when one of their delivery boys was filmed opening and consuming a part of the food package that he was supposed to deliver. After the video created a flutter on social media, Zomato announced that it will soon move to tamper proof packaging but did not mention a deadline for it.
Reviews and Ratings on Ecommerce Sites
With internet becoming Indian's new favourite shopping destination, hundreds of thousands of consumers are now buying products from eCommerce sites every day. With these sites listing millions of products for sale, consumer ratings & reviews become very important in the buying process, as the buyer looks to check how the experience of other buyers has been with that particular product. Many consumers say that a lot of these reviews are fake or planted. To find the collective consumer pulse on this issue, LocalCircles conducted a survey which received more than 18,000 responses.
Poll #1
62% consumers have experienced significant variations between online reviews & actual product received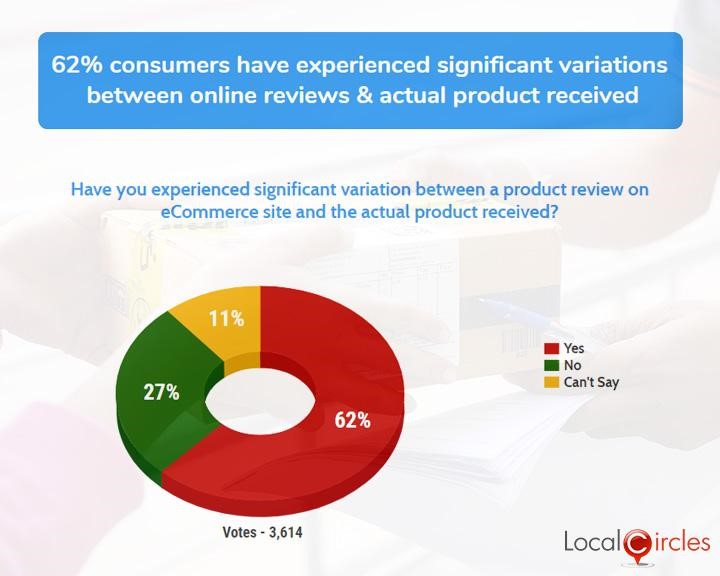 The first poll asked consumers if they have experienced significant variation between a product review on ecommerce site and the actual product received. Surprisingly, 62% consumers replied with a yes, while 27% replied with a no. 11% chose not to answer.
Poll #2
65% consumers do not trust product ratings on eCommerce sites
In the next poll, 65% consumers said they do not trust product ratings on eCommerce sites. Only 22% said they trust them and 13% chose not to answer the question.
Poll #3
34% consumers say their low product ratings have not been published by eCommerce sites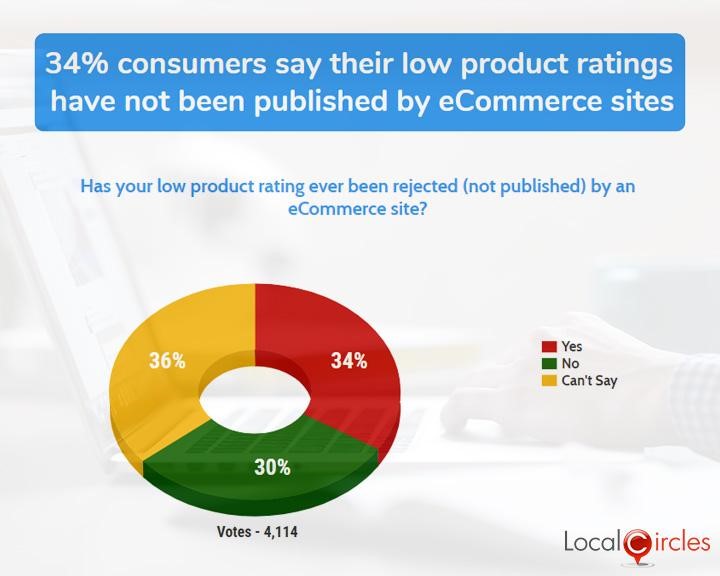 The third poll asked consumers if their low product rating had ever been rejected (not published) by an eCommerce site. 34% consumers said it has personally happened with them and 30% said it had not happened with them. 36% were not sure about it.
Poll #4
56% consumers don't trust product reviews on eCommerce sites
The following poll asked consumers if they trusted the product reviews on ecommerce sites. 56% responded in a negative while 31% responses were an affirmative. 13% were unsure about it.
Poll #5
72% believe fake product reviews have become a norm of the industry
In the last poll, 72% consumers said that they believe fake product reviews have become a norm in the eCommerce industry. 10% said this was not the case and 18% were unsure about it. Consumers mentioned
Customer Service by Ecommerce Sites
India has a thriving middle class and a middle-class consumer buys a product based on its utility, its life span and most importantly, its after-sales customer service. Many cases of poor customer service by ecommerce sites have been reported by consumers on LocalCircles with reports suggesting that many of these ecommerce sites do not have a reachable and responsive customer service function.
In the absence of set customer service standards in the country, LocalCircles conducted a set of polls to ascertain the consumer pulse on the issue. LocalCircles conducted various polls and the first question asked the consumer what sector has the poorest customer services in the country in the service industry. Banking and insurance got 43% votes, Mobile Telecom received 32% votes and Airlines got 11% votes. Surprisingly, the eCommerce sector received 14% votes, showing that it is an area which definitely needs attention.
Poll #1
Consumers say mobile telecom, banking & insurance cos have the poorest customer service in the country
Poll #2
Consumers were asked if there should be a maximum response time of 72 hours for ecommerce sites when contacted through the standard & defined channels like toll-free phone number, email address & website/app. 93% voted in favor of it while 5% voted against it.
93% consumers want eCommerce sites to acknowledge complaints within 72 hours
Poll #3
The next question asked if there should be a maximum time taken standard defined for ecommerce sites to close a consumer complaint. 91% said yes and 4% said no.
91% consumers want some standard time defined within which eCommerce sites are required to close complaints
Summary
All of these consumer surveys indicate that there is an urgent need to minimise counterfeiting, improve integrity of reviews & rating and customer service in the ecommerce sector. Since the consumer is not there to see and feel the product before ordering, it is critical that the policies are designed such that fraudulent activity, fake product listings and sales are minimised. Also, since many consumers tend to rely on online reviews and ratings, the policy and guidelines must help drive integrity of reviews and the same must be ensured by the ecommerce platforms. In addition to these, grievance redressal and service standards must be formed and enforced as that would enable ecommerce sites to better address consumer grievance which will only lead to increased consumer trust and growth of the ecommerce sector.
About LocalCircles
LocalCircles takes Social Media to the next level and makes it about Communities, Governance and Utility. It enables citizens to connect with communities for most aspects of urban daily life like Neighborhood, Constituency, City, Government, Causes, Interests and Needs, seek information/assistance when needed, come together for various initiatives and improve their urban daily life. LocalCircles is free for citizens and always will be!
All content in this report is a copyright of LocalCircles. Any reproduction or redistribution of the graphics or the data therein requires the LocalCircles logo to be carried along with it. In case any violation is observed LocalCircles reserves the right to take legal action.