Indian Community Social Media innovation makes it easy to deal with Cancer
Enables cancer patients to easily find information from other patients and survivors
Enables cancer patients to seek assistance from experts and others free of cost
Indian Cancer Society and LocalCircles enable India's largest online ecosystem for Cancer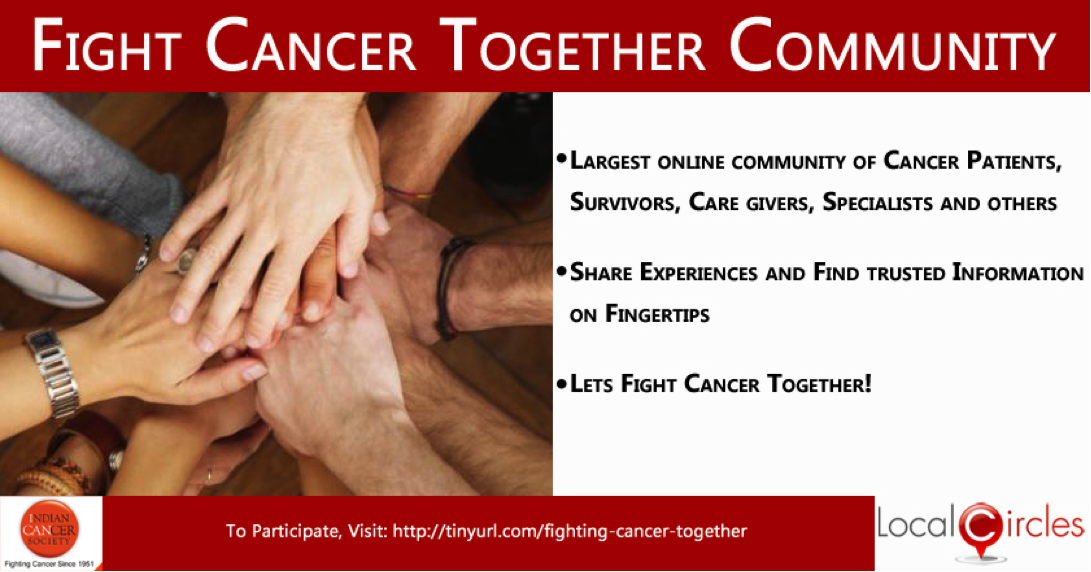 New Delhi, India, December 20, 2015 – LocalCircles (www.localcircles.com), India's leading citizen engagement platform today announced the roll out of an expanded national online community on the cause of Cancer. This, one of its kind online cancer community in the world, brings together cancer patients, cancer patients and their families, cancer experts, care givers, support organizations and the citizens of the country thereby creating an online community ecosystem to fight cancer, create awareness, sharing experiences, learning from each other and taking preventive measures to avoid cancer. Indian Cancer Society will serve as the founders for the circle while LocalCircles will make the circle available to all its existing members as well as anyone in India looking for cancer information and assistance.
"When someone is diagnosed with cancer, they or their family have a difficult time finding trusted information ,especially getting access to other people who are going through a similar condition or those who have won the battle against cancer", said Sachin Taparia, Chairman and CEO, LocalCircles. "With this circle, cancer patients and their families instantly have access to a community which is a source of trusted information as well as provides a support network to share experiences, exchange notes or meet up", continued Taparia.
"Knowledge and experiences of cancer survivors, cancer experts, care givers can be very beneficial for current patients fighting cancer and for the citizens in becoming aware about Cancer", said Jyotsna Govil, Hon. Secretary, Indian Cancer Society Delhi. "In addition to this, the circle will also be utilized by the Indian Cancer Society to outreach and interact with the community, share information, organize events and to share Thought Leadership on the subject" Govil continued.
"This online community is a great example of how technology can further such an important cause as Cancer, create awareness about it in the community as well as provide an electronic ecosystem for Cancer patients and survivors in India", said Pradeep Gogte, Director General, Indian Cancer Society. "Let technology be an enabler in the fight against cancer", Gogte continued
Anyone who is going through Cancer, their family members or anyone just interested in staying aware about Cancer is invited to join the circle through the following link: Fighting-Cancer-Together
About Indian Cancer Society - Indian Cancer Society was established in 1951 as India's first voluntary, non-profit, National Organization for Awareness, Detection, Cure and Survivorship of those affected with this disease. ICS has been doing sterling work in fighting cancer across India. It has been and continues to be the beacon of hope for thousands of underprivileged cancer patients. The society is entirely dependent on public support for its various activities concerned with financing the treatment and rehabilitation of cancer patients and for spreading cancer awareness.
ICS provides for early detection of cancer through cancer detection centers and mobile cancer detection camps across India, especially for the underprivileged. They also provide funds for the treatment of cancer for poor cancer patients across India. For more information, please visit: www.indiancancersociety.org
About LocalCircles
LocalCircles takes Social Media to the next level and makes it about Communities, Governance and Utility. It enables citizens to connect with communities for most aspects of urban daily life like Neighborhood, Constituency, City, Government, Causes, Interests and Needs, seek information/assistance when needed, come together for various initiatives and improve their urban daily life. LocalCircles is free for citizens and always will be! For more information, please visit: localcircles
Enter your email & mobile number and we will send you the instructions.
Note - The email can sometime gets delivered to the spam folder, so the instruction will be send to your mobile as well